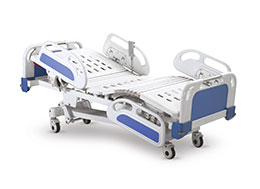 Master Bond is servicing this rapidly expanding market for specialty health care devices and equipment with high performance polymeric adhesives, sealants, coatings, potting/encapsulation compounds. Our application specific formulations offer solutions to many formidable requirements for usage in clinical and non-clinical environments. This can range from hospitals, to workplaces, to hotels, to cars, or even recreational environments. Many existing devices need to be redesigned so caregivers/patients can best administer this equipment effectively, safely reliably, intuitively, and comfortably. These equipments often vary in size, and complexity. Continuous progress in developing new trouble free, user-friendly equipment, while meeting the ever evolving standards/regulations, and satisfying the needs of the intended consumer risk free are essential for manufacturers to obtain a competitive edge. Many Master Bond compounds have played an extraordinary role in achieving these objectives.
The following is a list of different types of specialty medical devices/equipment that utilize our products.
Infusion pumps
Nebulizers
Apnea monitors
CPAP machine
Lift chair
Electric beds

Ventilators
Blood pressure monitors
Pulse oximeter
Glucose monitors
Prosthetic devices
Air Purifier
Catheters
Forehead thermometers
Electric scooters
Heart rate monitors
Weight scales
Timer medicine caps
Electrocardiogram monitor
Fetal monitor
Portable gluten detector
Home spirometer
Breathalyzer
Telehealth equipment
Developing specialty health care devices/equipment that will improve the quality of life for those inflicted with diseases, chronic/acute conditions is a very difficult task. The changing diverse composition of the population experiencing shorter hospital stays makes this endeavor even more challenging. For instance, safety concerns of an aging population versus a younger demographic for medical care by lay caregivers will have to address different parameters in constructing such equipment. It should be taken into account that these patients may be overburdened by personal matters such as diminished vision, hearing, physical dexterity, language skills, education, motivations, relationships, memory, judgment, and sensibilities. Another factor that needs careful consideration is the variable environmental conditions that such equipment might operate in. This will include different temperatures, light exposure, varying noise levels, cluttered spaces, pets, and EMI interference.
Master Bond is leading the way in assisting specialty medical device/equipment companies in finding answers to these problems. Our extensive line of biocompatible and electronic grade systems has not only been able to optimize productivity but to also alleviate weaknesses analogous to other models on the market today. USP Class VI and ISO 10993-5 certified products have been widely recommended for bonding a wide diversity of similar/dissimilar substrates in various shapes, and configurations. These high quality bonding agents consist of epoxies, silicones and UV/visible light curing systems. They withstand high/low temperatures, are chemically inert, resist chemicals, sterilization, impact, vibration, shock, thermal cycling. These dimensionally stable compounds are compatible with blood and body fluids. Master Bond electronic grade products have proven indispensable for the assembly of specialty medical device/equipment. They offer electrical conductivity, thermal conductive and electrically insulative characteristics. Durable, long lasting polymeric systems posses an array of impressive properties such as low moisture absorption, low outgassing, fast cures, low temperature curing, low stress and a low coefficient of thermal expansion. Single part UV/visible optically clear formulas are used for precise positioning/alignment, rapid polymerization an can be applied manually/automatically. Additionally select Master Bond epoxy and silicone compounds are non-nutrient and do not sustain or support mildew/mold/fungi or biological growth. Also, many products can be customized to match specific color requirements.
Telemedicine Technologies
Telemedicine is transforming healthcare through secure remote video and audio communications. This has provided an alternative to in-person visits and has allowed healthcare professionals to evaluate, diagnose, and treat patients in their homes, worksites, long term care facilities. Master Bond adhesives are able to play a significant role in the assembly of telemedicine equipment and devices that allow timely access, screening, monitoring, follow ups, consultations, care management, and coaching to address patient needs. Our products are capable of being employed in mobile medical devices, digital cameras, telemedicine kiosks and carts used to transport, enhance video resolution, and improve wireless connectivity of essential apparatus.
Using smartphones, laptop computers, and tablets, individual healthcare information can be gathered, transferred, stored, compared, displayed, and disseminated promptly for expert medical advice. Packed into a kit, medical peripherals, and video assist devices such as high-definition video cameras, digital stethoscopes, thermometers, pulse oximetry, blood pressure cuffs, dermatoscopes, otoscopes, EKG machines, ultrasounds, and weight scales can stream data/images over long distances to multiple locations. From primary care to medical specialties including radiology, pediatrics, and dermatology, telemedicine has made a meaningful difference in improving patient care. Additionally, telemedicine has reduced hospitalization rates and emergency room visits. Future adaptation of customized medical peripheral devices is expected to grow swiftly and offer innovative solutions for virtual care.