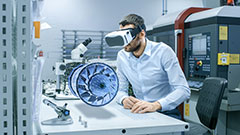 The metaverse offers unlimited potential for the future. It will have a profound impact on society. This extends from education, gaming, sports, concerts, tourism, art, commerce, real estate, journalism, military training, shopping, video conferencing, medicine, and marketing. To achieve these lofty goals virtual and augmented device manufacturers face formidable obstacles. Accomplishing these most challenging objectives requires the linkage between immersive, collaborative, interactive experiences.
Master Bond adhesives can assist metaverse hardware manufacturers develop lightweight VR headsets, scanning sensors, tracking systems, haptic feedback console controllers, powerful graphic processors, hand controls, stereo display monitors, and micro LED displays. These equipment can improve image color, and provide high end 3D sounds.
This transformative technology is in its embryonic stage and many complex tasks need to be consummated to meet essential needs. This is not an easy undertaking. Adaptation of thee systems also involves connectivity technologies such as 5G, Wi-Fi, artificial intelligence, social media, spatial computing (3D visualization), large area sensing, and sophisticated modeling techniques. Master Bond's emphasis is primarily on offering high end adhesive, coating, and encapsulating compounds to enable the development of such innovative technologies. Special importance is also being devoted to processing techniques in addition to cure speed, viscosity, and applicability of each composition.
Master Bond provides unmatched technical service with over four decades of experience in solving complicated optical, electro-optical, electronic assembly application challenges from fastidious customers. Our custom formulated compounds have unique characteristics and can be employed to generate enhanced performance, consistency, reliability, and longevity for metaverse hardware. Master Bond is also able to accommodate ever-evolving client specifications by adjusting the properties of each compound. Engineered to the most exacting quality standards, Master Bond products can make substantial contributions in helping metaverse hardware manufacturers obtain a competitive edge and increasing revenue.
Particularly noteworthy has been the utilization of durable, toughened structural adhesives for mating similar/dissimilar substrates and difficult-to-bond surfaces in various applications over the years. This can be instrumental in lightweighting and producing headsets that could be worn comfortably for lengthy periods of time. Other pertinent Master Bond grades possess dimensional stability, optical clarity, low coefficient of thermal expansion, superior electrical insulation, thermal/electrical conductivity, stress relief and good wetting capability. Additionally they are environmentally friendly, contain no solvents, have low shrinkage upon curing, fill gaps, resist exposure to moisture, humidity, high/low temperatures, and abrasion. These versatile compositions will give impetus to rapid advances in haptic, sensing, tracking, display, optic technologies for boosting optimum usage in metaverse hardware.