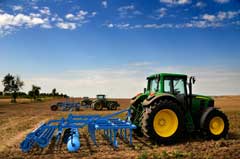 Master Bond is at the forefront of developing innovative adhesives, sealants and coatings for use in the agricultural industry. These products are employed for structural bonding, seam sealing, gasketing and surface coating. They protect against corrosion/abrasion, improve aesthetics, reduce noise, vibration, harshness (NVH), and extend equipment longevity. Our Master Bond compounds are engineered to resist harsh climatic conditions such as humidity, heat aging, thermal cycling, high winds, freezing temperatures. Select grades fill gaps, seal liquids/gases, dissipate heat, speed processing, provide electrical connections, are flame retardant and can be dispensed manually/automatically.
Durable bonding systems evenly distribute stress over wide surface areas and help simplify designs. These formulations have spearheaded efforts in assembling lighter weight vehicles/components improving fuel efficiency and saving customer cost. New material combinations including metals, plastics, composites and substrates with reduced wall thicknesses are effectively joined together with Master Bond for lightweighting. Solvent free, environmentally friendly compositions enhance performance, reliability, safety while minimizing vehicle downtime.
Job proven Master Bond epoxy, polyurethane, polysulfide, silicone systems are used in the assembly of frames, doors, cabins, roofs, engines, brooms and shovels for:
Tractors
Cultivators
Harvestors
Backhoes
Master Bond electronic grade compounds such as conformal coatings, conductive adhesives have been extensively incorporated into control/monitoring devices for agricultural machines/equipment. This has enabled farmers to access information regarding machine performance, optimizing use and increasing crop yields. The utilization of robotic/autonomous equipment has enabled farmers to overcome labor shortages, conserve scarce water, produce more food economically, avoid time consuming competitive tasks by using a touch screen interface operated remotely. Sensors, actuators, navigation/machine vision systems compensate for variable parameters to achieve most favorable results for successful farming enterprises.