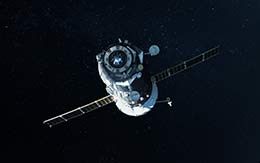 Designing and assembling electronic systems, sub-systems, components for the severity of space is indeed a formidable task. Enduring this austere environment reliably is vitally important for the flawless operation of space vehicles in order to accomplish their assigned mission. Master Bond space tolerant adhesives, sealants, coatings, potting/encapsulation compounds possess unique properties to ensure they protect electronic products against abnormalities and premature failures. They consist of epoxy and silicone formulations. These compositions are designed to meet stringent mechanical, electrical, environmental criteria for their intended application and will perform successfully, mitigate risks for the entire duration of the anticipated mission lifetime. Select grades have been utilized extensively in diverse types of spacecraft for numerous complex assignments.
Master Bond's product line can be custom formulated to help play a vital role for optimizing performance for:
Manned spacecraft
Atmospheric probes
Orbiter spacecraft
Lander spacecraft
Surface rovers
These spacecraft can employ numerous Master Bond polymeric compositions in fabricating these subsystems according to the requirements of each space organization. They can be employed in:
Structural subsystems
Thermal control subsystems
Command and data handling subsystems
Communication subsystems
Identification and tracking subsystems
Electronic power and distribution subsystems
Altitude and velocity control subsystems
Land subsystems
These subsystems contain essential components such as:
Printed circuit boards (PCB)
Sensors
Capacitors
Power modules
Power amplifiers
RF generators
Antennas
Transmitters
Receivers
Switches
Cameras
Photovoltaic cells
Mixers and local oscillators
Connectors
Fixed alternators
Detectors
Cable assemblies
Actuators
Many of these electronic components can be produced by using various Master Bond bonding, sealing, coating and potting compounds.
Some of the most adverse conditions that our space tolerant products are engineered to withstand are:
Intense vibration
Acceleration
Noise
Pyroshock
Outgassing
Electrostatic discharge
Vacuum environment
UV radiation
Radiation
Space collisions with microparticles
Thermal shock
Cryogenic serviceability
Chemical exposure
Fatigue
Creep
Abrasion