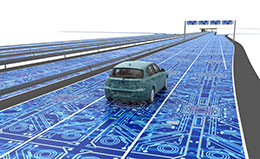 Master Bond has taken the lead in collaborating with auto manufacturing/high technology companies on futuristic applications for adhesive bonding technology. Connected and autonomous vehicles top the list of projects in order of importance for the auto sector. Sophisticated microprocessors will be required to dramatically effect the capabilities of such vehicles. Vision processing to detect, track, recognize objects while navigating at correct speeds/directions is a formidable task requiring the most advanced cameras, sensors, actuators, radar, ultrasound devices. This technology will have a profound effect on mobility, cutting carbon emission, reduce congestion/transportation costs, improving safety, convenience, lifestyles.
From short/long range sensors to self parking/collision warning systems to adaptive cruise control to location tracking devices Master Bond advanced polymeric bonding systems offer consistent, repeatable, reliable solutions. Electrically conductive, thermally conductive, electrical insulative formulations have enabled design engineers to satisfy diverse requirements. Our products can be automatically dispensed and exhibit impressive strength properties, even under hostile environmental conditions. Accelerated product development has addressed many concerns and allowed automakers/suppliers to better recognize the complexity in deploying autonomous vehicles under variable driving conditions and meeting regulatory constraints. Competitive marketplace pressures will speed the scope of innovation for autonomous vehicles and will transform the auto industry.
As demand is growing swiftly for Advanced Driver Assistance Systems (ADAS), drivers of new vehicles have been successfully employing limited self-driving automation for use under certain conditions. They range from:
blind side detection
lane departure warning
electronic stability control
adaptive headlights
emergency braking
tire pressure monitoring
pedestrian detection
surround view
cross traffic alert
hill descent control
crash notification
night vision
steering pattern monitoring
When necessary, with limited self-driving automation, the human driver can take control and intervene to perform any required tasks. Full self driving automation still has many challenging obstacles to overcome to be fully operational. These include mapping, weather, governmental regulations, legal/liability issues, cybersecurity, pricing.
Master Bond has contributed to signifcant technological progress in the enhancement of ADAS. This has been facilitated by the utilization of die attach adhesives, lens bonding systems, EMI shielding materials, silver coated nickel filled electrically conductive compounds, sealants, conformal coatings, board level underfills, encapsulants to accommodate specific requirements. Select Master Bond grades feature high Tg, high modulus structural adhesives and ultra-low modulus compositions for interfacing fragile components, fast cures at low temperatures or upon exposure to UV/visible light and heat, protection from thermal shock, humidity, corrosive materials, contaminants. In order to increase yields, lower weight, maximize connections in compact space Master bond has been diligently working with Tier 1 and Tier 2 suppliers. This has enabled manufacturers to increase functionality for ADAS systems and help develop products to mitigate accidents/injuries for the future.
Most noteworthy has been our research in LIDAR technology for autonomous automobiles. This remote sensing uses light waves instead of radio waves and is invaluable in mapping precisely/accurately the world in 3D. As this technology operates at a greater range and higher resolution it possesses the capability of controlling navigation/recognition of the surrounding 360 degree view of the environment, indispensable for the safe operation of an autonomous vehicle. This key sensing technology is able to tell the difference beetween a car, truck, motorcycle, pedestrian in concert with radar, visible like cameras. By detecting obstructions in a fraction of a second by a car-on-board computer, complex computer algorithms can alert drivers to hazardous unexpected events and accident avoidance. Our polymeric systems have met pivotal variables for products extending from optical semiconductors, electronic control units, laser diodes, optodetectors to digital signal processors, LEDs for effective operation of advanced driver assistance systems (ADAS). Vehicle to vehicle communication and driver vigilance in their own limitations are important considerations in future employment of ADAS systems.