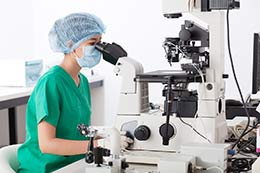 Technologically advanced Master Bond adhesives, sealants, coating, and potting/encapsulation compounds have the potential to enable the construction of intricate instruments utilized by biophysicists. Meticulously formulated systems meet exact specifications to ensure reliable, repeatable, precise, and accurate information is obtained. These sophisticated devices have been responsible for numerous novel solutions to complex problems in the following key fields:
Neuroscience
Image technology
Biomaterials
Treatment and devices in medicine
Ecosystems
Protein dynamics
Cellular physiology
Genomics
Highly skilled researchers, environmental scientists, microbiologists, ecologists, pharmacologists, endocrinologists, and chemists are able to amass valuable data to enhance their understanding of biological systems from these instruments. The most common types consist of:
Benchtop centrifuges
Water purification systems

Refrigerators
Liquid nitrogen storage tanks
CO2 incubators
Electron microscopes
Calorimeters
Lasers
Spectrometers
Electrophysiological amplifiers
Nuclear magnetic resonance spectroscopes
Many significant contributions from this equipment have been frequently accomplished by biophysicists from work conducted in universities, hospitals, bioengineering firms, tech start-ups, and government agencies.
Customized electrically conductive, thermally conductive, and electrically insulative Master Bond grades enable the use of such products in multiple applications. Among some of their most pertinent characteristics include but are not limited to long term thermal stability, excellent bond strength between similar/dissimilar substrates, very good heat dissipation properties, low coefficient of thermal expansion, chemical resistance and resistance to temperature excursions, vibration, as well as shock. Other features of these adhesives are their biocompatibility, and ability to withstand exposure to sterilization cycles including steam autoclaving. Many products meet the USP Class VI requirements for biocompatibility, and/or pass the ISO 10993-5 testing for cytotoxicity.
Special grades meet NASA low outgassing certified and are capable of resisting 85°C/85% RH (Relative Humidity) for 1,000 hours. Additionally, certain compositions exhibit high optical clarity, low shrinkage upon cure, do not sustain or support mildew/mold/fungi or biological growth per MIL-STD-810G. These formulations are available in a variety of viscosities. Low viscosity compounds are recommended where capillary flow is needed whereas adhesives with a paste like consistency are more suitable where minimal flow upon application is required.