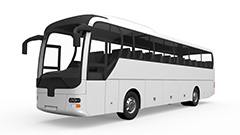 From structural bonding to flange sealing to sound/vibration damping to lightweighting to corrosion protection Master Bond is leading the way in bus manufacturing applications. Technologically advanced products replace welds/mechanical fasteners, improve load bearing capacity, reduce metal fatigue and accommodate design flexibility. Multi-substrate bonding solutions enable lower weight, more fuel efficient vehicles with enhanced functionality. More reliable, safer, aerodynamic adhesive joined buses prevent rattles, squeaks, increase longevity and value retention.
One and two component toughened epoxy systems offer structural integrity between composite, wood, plastic, metal including aluminum, magnesium, cold rolled steel surfaces. They are a barrier to dirt, dust, water/moisture leakage, climatic stresses and will not crack or chalk upon aging. Rapid processing speeds through automation reduce cycle times and upgrade cost efficiency. These ecologically friendly formulations exhibit long term durability, impact resistance and meet harsh temperature requirements that will exceed challenging specifications.
Master Bond Adhesive Applications for Bus Assembly:
Dashboards
Wheel Arches
Air Conditioning Components
Luggage Compartments
Roof and Floor Bonding
Side Panels
Compounds are engineered to minimize repair frequency, time, cost and decrease warranty claims. They also guard against mechanical abrasion from road debris. Gap filling, room temperature/heat curing systems are employed in lightweight constructions using thin-walled substrates. They possess superior shear, peel, tensile, compressive strength properties. These color stable, low shrinkage, solvent free products help design engineers meet crashworthiness issues for passengers/drivers. Specific grades can be applied on irregular shapes in confined areas and diminish interior/exterior noise transmission levels. Master Bond tailor made adhesive solutions enable bus manufacturers to achieve low emissions for a cleaner environment and superior ride quality.