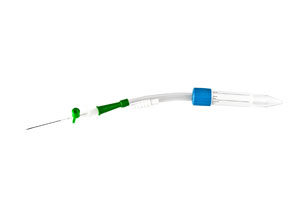 Master Bond offers many products that have been developed for bonding catheter assembly materials, including PVC, polyurethanes, polycarbonates, silicones, nylon, thermoplastics, stainless steel and other metals. These substrates have a reputation of being difficult to bond but our custom-formulated compounds handle these challenging surfaces with ease. Specific grades are available that are USP Class VI compliant, meet ISO 10993-5 cytotoxicity test standards, and offer superior flexibility, optical clarity and rapid curing.
Master Bond medical grade formulations have been perfected for tube joining, balloon bonding, sensor attachment, guidewire assemblies, lumen sealing and specialized catheters employed for urological, gastrointestinal, cardiovascular procedures such as angioplasty, angiography, measuring direct pressure within the brain and ophthalmic usage. These valuable medical devices consist of thin, flexible tubes in different sizes, lengths, surfaces when employed are inserted into a duct, body cavity or vessel for draining fluids such as urine, body abscesses, deliver medication such as chemotherapy for cancer patients or insulin for treating diabetes. It is most frequently engaged by doctors for entry into the bladder for patients having problems urinating resulting from blockage/injury to the urethra, nerve damage, tumors, enlarged prostate in males, to measure urine output, draining the bladder before surgery, etc. Master Bond provides select grades of bonding agents that deliver uniformity of cure, high strength, exact alignment, consistency, precision, reliable solutions to overcome many challenging needs. It is important to note that a catheter is often left in the body temporarily or permanently.
Durable RoHS compliant, solvent free UV/visible light curing adhesive systems require no mixing and offer resistance to liquids including moisture, humidity, gasses, sterilization including gamma radiation, EtO. Low viscosity compositions excel at adhering various diameter tubes into shafts by capillary action. Select grades feature fluorescing agents to provide verification of adhesive placement and easy online quality control inspection. For certain types of plastics plasma treatment may be recommended to achieve high strength bonding results. Most significant UV/visible light curing systems can be automatically applied, cure on demand, often in seconds, have low energy requirements, increase productivity.