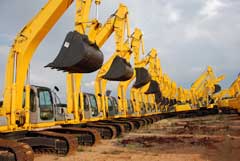 Master Bond has a wide array of epoxies, polyurethanes, silicones and polysulfides designed for the assembly of construction equipment. Key properties of our systems include vibration, shock and impact resistance, high shear/peel strength properties and corrosion resistance. Master Bond compounds are used in applications ranging from structural bonding to sealing and from conformal coating to potting and encapsulation.
Types of construction equipment that employ Master Bond products:
Bulldozers
Backhoes
Combat engineering vehicles
Excavators
Cranes
Dump trucks
Master Bond systems are designed to offer high bond strength to similar and dissimilar substrates, rapid cure speeds, gap filling properties and exceptional abrasion resistance. Both one and two component versions are available for use.
Durable, solvent free adhesive formulations are instrumental in lightweight vehicle designs and are used for the assembly of cabins, doors, body panels, engines, frames, floors. These cost effective products allow uniform stress distribution, optimize user/operator safety, reduce noise, improve aerodynamic behavior, comfort, aesthetics. Additionally they prolong equipment service life and minimize costly downtimes. Available in a range of viscosities these systems can be robotically applied to tenaciously bond cold rolled steel, galvanized steel, stainless steel, high strength steel, aluminum, magnesium and composite surfaces. Ambient/heat cure seam sealants can fill large gaps to prevent moisture, heat, dust, dirt intrusion. Flexible, thermally stable thixotropic form-in-place gasketing materials seal different sized/shaped flanges against liquids, gases, contaminants and protect against corrosion and pressure.