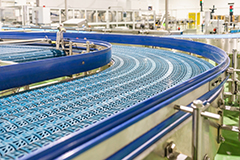 Master Bond adhesive/sealants have been instrumental in the assembly/repair of multiple types of conveyors. These products have been formulated to withstand abrasiveness, corrosiveness, moisture, vibration, impact, pressure, high/low temperatures. Consisting primarily of epoxy, silicone, epoxy-polysulfide and epoxy-polyurethane systems these highly durable compositions are noted for their outstanding bond strength to many rubber and metal substrates. Select systems also adhere well to properly prepared UHMW, nylon, and HDPE. These mechanical devices with the aid of special adhesive compounds have played a vital role in commercial/consumer applications for quickly, efficiently, safely transporting from one site to another different size, shape, weight materials, often under demanding conditions. From individual products to bags, cases, pallets Master Bond has been in the forefront in helping manufacturers of fixed/portable conveyors design customized systems with special features to satisfy individual requirements.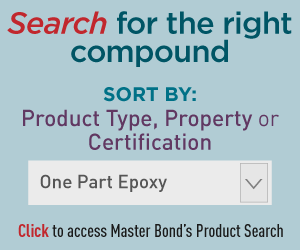 Our value added adhesive/sealants has been employed for use among the following types of conveyors:
belt
check weighters
pneumatic
vertical
vibration
aero mechanical
bucket
chute
ball transfer
screw/auger
roller
wheel
Used extensively by the mining, food processing, computer, electronic, pharmaceutical, chemical, automotive, and packaging industries conveyors have been integral in improving productivity, saving money and fulfilling orders promptly. With proper maintenance this equipment is engineered to be long lasting. Close monitoring and proper training of personnel has alleviated excess wear, belt breakage, downtime, gains, damage to parts/components. Many corporations have successfully invested in refurbished conveyors to lower capital expenses.
Master Bond solvent free flexible resilient repair material is being employed to resurface worn, torn conveyor belt area. Products are also compounded to bond rubber to many rubbers, and rubber to metal, to optimize conveyor performance. These highly versatile compositions cure at room temperatures or more quickly at higher temperatures. They are packaged in cartridges for ease of use. These cartridges can be placed in convenient gun applicators. Fast curing, non-sag materials provide an alternative to convention welding and expensive time consuming vulcanization techniques. Highly elastic, tear, wear, resistant formulas ensure peak capacity, restore defective parts, provide superior electrical insulation, have outstanding elongation, chemical resistance.