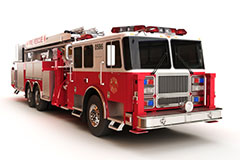 Optimize productivity, lower manufacturing costs, improve reliability, performance, safety, aesthetics with Master Bond structural adhesives, seam sealants and form-in-place gasketing. From ambulances to fire trucks to mobile communication command vehicles our products offer the durability, toughness, resistance to harsh climatic conditions to extend vehicle service life.
Eco-friendly structural epoxy adhesive systems have replaced mechanical fasteners and speed the assembly of body panels, shelving/cabinets, consoles, brackets, floors, roofs, door skins, trim/nameplates. One and two component systems can be efficiently dispensed manually, semi-automatically, automatically to bond similar/dissimilar substrates such as metals, composites, plastics, rubbers. This includes aluminum, steel, high strength steel (HSS) fiber reinforced plastics, ABS and polycarbonate surfaces. Adhering multiple lightweight materials has enabled vehicles to increase payload capacity, fuel economy and lower CO2 emissions. Additionally Master Bond structural adhesives protect against corrosion, resist fatigue, stress/strain, reduce noise, vibration, harshness, acoustic and feature shear/peel strength.
Versatile liquid seam sealers are used to prevent wind/water leakage, cut vehicle weight and for sound deadening. Available in a range of flow properties, hardnesses our two component epoxy and one part acetoxy curing RTV silicone systems withstand exposure to vibration and thermal cycling. Acetoxy fluorosilicone systems are noted for their inertness to gasoline, diesel fuel, motor oil, ethanol. These products are engineered not to crack even under extreme conditions.
Master Bond high quality form-in-place gasketing compounds prevent fluid leakage, dust/air intrusion under pressure and are able to absorb shock, vibration, impact. These highly flexible formulations are non-corrosive, have superior gap filling properties and exhibit excellent substrate adhesives. They are employed in elevated temperature and aggressive chemical environments. Form-in-place gasket beads can be precisely dispensed automatically over complex geometrics for consistent/reliable seals.