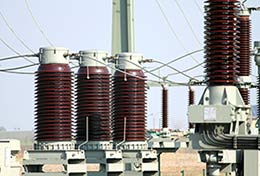 Electrically insulative, solvent free Master Bond epoxy compounds offer durable, reliable, long-lasting high-performance bonding, sealing, coating, potting, encapsulation, casting, and impregnating capabilities for major components engaged in the electrical grid. These products are used in indoor/outdoor environments, suburban/rural areas, domestically/internationally and ensure safe, stable transmission of electricity. They are designed to meet the shifting demand, and efficiently manage the energy generated from natural gas, nuclear power, coal as well as renewable sources such as wind, solar, hydropower, biomass, geothermal heat, and tidal waves. Master Bond formulations have been specially developed to comply with the most uncompromising standards and protective guidelines to be able to fulfill multiple considerations in the interconnected network of power stations, substations, power distribution/transmission and grid energy storage. Application specific grades possess unique properties and can play a vital role in solving far-reaching complex problems for manufacturers of:
Generators
Switchgears
Dry-type distribution transformers
Insulators and bushings
Motors
Other essential components consist of:
Lightning arresters
Circuit breakers
Relays
Capacitors
Smart meters
Converters
Voltage regulators
Indication instruments
Master Bond produces a formidable portfolio of novel products that can be used in the manufacturing of such components. Master Bond's aim is to help engineers achieve the lucrative growth opportunities by overcoming operational and processing obstacles. Some distinctive characteristics for unusual grades are as follows:
Resistance to cracking and mechanical creep
Ability to cast in thick sections
High dielectric strength
Very high glass transition temperature
Minimal internal stress during cure
Thermal shock resistance
Extraordinary thermal aging competence
Superior dimensional stability
Resistance to weathering and UV
High temperature/sub-zero environments
Excellent chemical resistance
Heat dissipative systems
UL 94 V-0 flame retardancy
UL 746A High Amp Arc Resistance and UL 94HB for flame retardancy
UL1203 for explosion-proof and dust ignition proof electrical equipment in hazardous (classified) locations
NASA low outgassing approved
MIL-STD 810G for fungus resistance
MIL-STD-883J for thermal stability
Outstanding toughness
Excellent chemical resistance
Impressive elongation
Low shrinkage
Water resistant
High mechanical strength
Master Bond epoxy systems have superb adhesion between similar/dissimilar substrates. They range from metals including stainless steel, galvanized steel, aluminum, ferrite, copper, and brass, to plastics such as ABS, Acrylic, PEEK, Polysulfone, and Polycarbonate. Master Bond's research & development team is working diligently to create special formulas so that they can be used to enhance the capabilities, resiliency, interoperability, adaptability, agility, and quality of transmission as well as distribution components. Aging infrastructure, guarding against extreme weather events, decreasing outages and their duration, security issues, sustainability, maintenance expenses, digitization, population growth, and energy for a rapid expansion of electric vehicles all urgently need to be addressed to fight climate change. Master Bond is dedicated to improving our products so that important contributions can be made in enabling energy service providers to better serve industrial, commercial, residential, and transportation customers.
Master Bond compounds for electrical transmission and distribution components are available in a wide variety of viscosities, hardness values, cure speeds, colors as well as pot life options. They can be easily dispensed manually, and via semi-automated, and automated means. Two component systems are often packaged in dual cartridges and dispensed from gun applicators or pre-mixed and frozen syringes. This can ensure that consistent, and reproducible results are achieved while reducing waste.