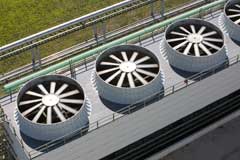 High performance adhesives, sealants and coatings offer outstanding protection against corrosion and abrasion in assembly and MRO applications. Master Bond products can expertly withstand high pressures, moisture/chemical exposures and vibration/impact. One and two part systems are available for use.
Typical Applications
From machinery/vehicle cooling to climate control to winnowing to ventilation, Master Bond products offer solutions for fan manufacturing companies. Our compounds have an unmatched record of reliability and are used on the following types of fans:
Centrifugal fans
Axial fans
Mixed flow fans
Cross flow fans
Additionally, Master Bond features a variety of formulations to rebuild fan blades and shafts. Specific grades are also designed to protect fan blades and housings against wear and tear. Master Bond systems are rapid curing and have negligible shrinkage upon cure. They have superior vibration damping characteristics and maintain precise alignments.