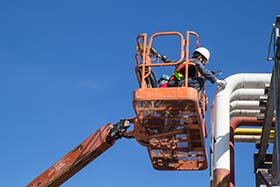 This most valuable equipment gives workers safe access to hard to reach sites. They work well on unstable surfaces, tight areas, can reach tall workspaces, and maneuver over obstacles. Master Bond high quality structural adhesive systems are capable of playing a crucial role in ensuring flawless performance under multiple job conditions at different elevations. Master Bond products have proven most effective in adhering similar/dissimilar substrates including fiberglass reinforced plastics, composites, flexible rubber materials, and metals such as aluminum, steel, carbon steel, as well as titanium. This enables end users to make a major contribution to reduced component weight of truck-mounted aerial lifts and enabled fuel savings, greater payload capacity, ability to work on sensitive indoor flooring, enhanced maneuverability, and innovative designs.
Specific Master Bond grades are tough, durable and engineered to provide long term protection from wear, abrasion, and corrosion. They offer superior resistance to impact, vibration, shock, extreme high/low temperatures, and thermal cycling. A wide variety of vehicle and lift components manufactured by industry leading manufacturers can depend on Master Bond for reliable and consistent deployment. They encompass wiring harnesses, emergency controls, guardrail systems, backup alarms, gauges, ground consoles, sensors, and switches.
Types of Industrial Aerial Lifts:
Articulating boom lifts
Telescopic lifts
Cherry pickers
Towable boom lifts
Self-driving boom lifts
Boom lifts are versatile and are frequently used in the following applications:
Electrical line repair
Tree trimming
Event staging and lighting
Building maintenance
Fruit picking on farms
Fire services
Filming
Sign installation, repair, removal
Plant maintenance
Bridge and overpass inspection
Light installation and maintenance
Construction
When selecting the most suitable industrial aerial lift for a project many factors need to be considered. Location of a job site, maximum load capacity, height needed, turning radius, maneuverability, power source, environmental conditions, and safety risks will have to be investigated.