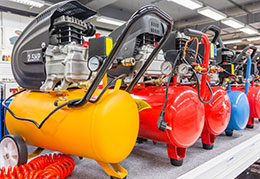 Key components/parts for industrial air compressors are constructed with Master Bond adhesives, sealants and coatings. These consist of actuators, switches, gauges, internal sensors, motors, filters, valves, controls. Our products are designed to work in different environments and in ensuring peak performance. They are employed in the following type of industrial air compressors.
Reciprocating Compressors
Rotary Screw Compressors
Aerial Compressors
Centrifugal Compressors
Our cutting edge formulations have contributed to enhanced reliability, durability, consistency, efficiency, longevity for many intended applications. These include:
spraying
mixing and blending
pneumatic tools
conveying
monitoring
clamping
stamping
sandblasting
cooling
vacuum packing
filling
closing
cleaning
cutting
Chemistries
Industrial air compressors incorporating Master Bond products are deployed in the following industries:
food and beverage
pharmaceutical
electronic
chemical
plastic
agriculture
power generation
automotive
defense
metal fabrication
furniture
oil/gas
healthcare
textile
Industrial air compressor parts bonded with Master Bond are available for use in different sizes, shapes, materials. These job proven compounds have enabled end users to avoid downtime, costly repairs, lower operating expenses and reduce power consumption. Additionally they have helped mitigate safety risks such as threats from fumes, flying particles, dust, harmful contaminant, electrical dangers. Select grades also provide protection against corrosion, leakage, excessive noise, vibration, wear, heat. Customized compositions have been developed to meet unique specifications. Master Bond mated components have furthermore been utilized in rebuilding and refurbishing industrial air compressors.