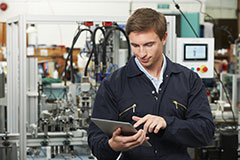 Industrial automation has been transformative for processing, assembly, inspection, material handling for manufacturing companies. Our broad line of adhesives, sealants, potting compounds have played an important role in providing solutions to many challenging applications for hydraulic, pneumatic, electronic, electrical, mechanical automation devices. They also have made a major contribution in developing new designs that incorporate novel materials that enhance the accuracy, precision, consistency, endurance of these machines while decreasing their size, weight to satisfy specific application goals.
User friendly one and two component formulations have been proven beneficial over traditional fastening methods such as welding, rivets. Most noteworthy, properly dispensed Master Bond structural adhesive systems offer improved load bearing capacity and even stress distribution, which has proven so critical in the reliable dependable operation of industrial automation equipment. Additionally these systems fill gaps, resist cyclic fatigue, seal against liquids/gases, provide durability/toughness, high/low temperature serviceability, protect against corrosion and bond well to dissimilar substrates such as metals, composites, ceramics, rubbers and most plastics. Select grades maximize heat transfer efficiency, reduce vibration/noise transfer and have excellent wear resistance in areas subjected to abrasion.
Utilization of specific Master Bond compounds have enabled end users of industrial automation machinery to reduce labor expenses, improve productivity, augment quality, operate in hazardous environments including extreme temperatures, poor atmospheric conditions, eliminate routine tasks for workers, minimize defect rates, run continuously, avoid material wastage, reduce work-in-process inventory, manufacture more affordable goods and increase profitability. As the volume of automation equipment continues to grow exponentially the ever evolving functionality requirements for technologically advanced adhesive become more demanding. Master Bond team of chemists has worked hard to satisfy strict specifications for high manufacturing output at high speeds with cost effective, sustainable, premium materials. Through adjustments to existing adhesive grades and introducing new custom products we have achieved significant breakthrough for this most vital industry.