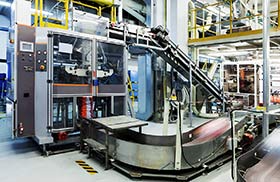 Master Bond is a preeminent supplier of high performance adhesives, sealants, coatings, and potting/encapsulation compounds used for assembling industrial automation equipment. Fixed, flexible, programmable, and total integrated automation systems rely on a wide range of our formulations to ensure that precise, accurate, reliable, and long term machines can be constructed in factory environments and operate at fast speeds with little or no human assistance. Customized, application-specific grades have been able to meet unique needs/specifications by withstanding exposure to hostile conditions such as extreme heat and corrosive atmospheres. As this industry evolves, Master Bond has been in the forefront in diligently working on developing cutting edge products to facilitate improvement in functionality and effectiveness of these vital machines.
High strength structural bonding agents are of critical importance in the fabrication of industrial automation equipment. These gap filling, durable, solvent free, and user friendly adhesives possess exceptional load bearing capacity and adhere to similar/dissimilar materials. These Master Bond grades exhibit resistance to vibration, impact, shock, abrasion, chemicals, moisture, high/low temperatures and thermal cycling. Some significant applications for industrial automation include machining, palletizing, dispensing, laser cutting, CNC motion control, part transfer, pressworking, tube benders, automatic staplers, function testers, and crimping machines.
Factory automation for industrial end users has streamlined production, given companies a competitive edge, expanded product offerings, and lifted profitability. Industrial automation increases productivity, eliminates human error, enhances quality/consistency, reduces material waste, shortens factory lead times, heightens worker safety, boosts output, lessens energy consumption, and cuts expenses. Self diagnostic automation systems monitor equipment for any problems, which results in less downtime.
Our job proven formulas are capable of being employed in industrial automation systems for the computer, microelectronic, semiconductor, telecommunications, aerospace, automotive, food/beverage, agriculture, medical device, plastic processing, packaging, machine construction, and mining industries. They consist of electrically insulative compositions which are thermally conductive, as well as compositions which are both electrically and thermally conductive. Additionally, it is noteworthy that parts/components integral to building industrial automation subsystems depend on Master Bond for many challenging assignments. They range from electric motors, relays, switches, power supplies to sensors, communication devices, timers, controllers, monitors, and touch panels.
Master Bond versatile adhesive systems offer flexible engineering design for manufacturers of industrial automation equipment. This adaptability is pivotal to reach future growth potential. Considerable progress has been generated in modifying existing machines to change their capabilities and to achieve ambitious goals. Artificial intelligence, internet of things (IoT), robotics, actuation devices, high power supplies, and cloud to device connection will be transformative in the quest for next generation automation systems. Master Bond pivotal compounds provide superior heat dissipation, low stress, and meet the ASTM E595 low outgassing specification. Select grades can offer extremely thin bond lines of 10-15 microns, for maximizing heat transfer. Other prominent systems with unrivalled properties are Master Bond underfills, die attach adhesives, dual curing conformal coatings, form-in-place gasketing products, staking adhesives, gap fillers, surface mounting adhesives, and protective encapsulants / potting compounds.