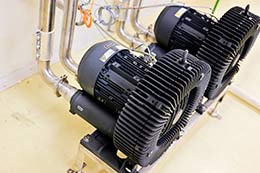 Centrifugal and positive displacement air blowers are mechanical devices manufactured with function-specific features. Master Bond has engineered a comprehensive line of products that are capable of enhancing their performance, reliability, and efficiency. Durable, toughened adhesive/sealant formulations have exceptional physical strength characteristics and reduce downtime by curing rapidly. They withstand exposure to elevated temperatures, abrasion, wear, corrosion, vibration, shock, and high pressure. These compounds provide excellent bond strength to a wide variety of substrates including but not limited to carbon steel, titanium, aluminum, stainless steel, and fiberglass. Master Bond compounds enable end users to potentially employ them in both assembly and repair/maintenance operations.
Industrial blower applications range from heating, cooling, material conveying, exhausting, drying, ventilating, dust collection, pressurizing, and general circulation. Key criteria to evaluate in selecting an industrial blower are flow capacity, operating pressure, dimensions, horizontal or vertical alignment, type of gas, energy efficiency, ambient conditions, relative humidity, noise limit, altitude, and the size of the motor. Master Bond products are potentially applicable in industrial blowers used in the chemical, automotive, mining, food processing, textile, electrical equipment, petroleum refining, and wastewater treatment industries. Growing numbers of data center facilities present broadening opportunities for soaring demand and future potential deployment of these devices.
Master Bond formulations are diligently compounded to the highest quality control standards. It is critical to ensure flawless blower execution for critical processing needs, and industrial blower failure causes deficits/work stoppages and have had far reaching consequences in plant productivity, customer relationships, as well as profitability. Master Bond adhesive, sealing, and coating products when properly applied could empower engineers to enhance design flexibility to prevent breakdowns when avoidable. There is also a need to address industry concerns regarding shrinking power consumption, diminishing noise, lowering vibration with smart controls, preventing contaminated air from recirculating and other issues. Customized Master Bond compounds provide excellent performance properties to help end users potentially overcome present blower deficiencies.
Master Bond is fully committed not only to the ever-changing requirements of industrial blower companies but also to providing technical support for increasing processing speeds. Solvent-free room temperature curing ceramic filled epoxy coatings provide outstanding abrasion resistance. Some compounds protect against damage from wear, corrosion, and chemical exposure. Metal filled compounds feature high strength, heat resistance, low shrinkage, and fast cures for resealing cracks. Most compounds are easily applied via manual or automated means. These and other Master Bond materials provide the capability of playing a valuable role in rebuilding, refurbishing, and modifying existing blowers.