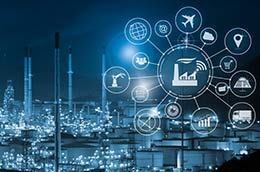 Production facilities are able to collect, analyze, and utilize data in real time by communicating at lightning speed with other web enabled devices, machines through the industrial internet of things. This transformative technology has offered manufacturing companies the flexibility, agility, adaptability to optimize their operations by making more effective business decisions. Automated data driven digital diagnosis has enabled factories to improve productivity, lower their expenses, minimize machine downtime, monitor performance remotely, enhance safety, elevate quality control, limit errors, and deliver energy efficiency. Other competitive advantages are superior inventory management, preventing unexpected machinery failures through predictive maintenance, and gaining valuable insight to usage patterns.
Master Bond offers products that have the ability to be used in the assembly of IIOT hardware. These include sensors, actuators, modules, adaptors, converters, probes, transmitters, routers, and switches. Our application specific formulations have also been incorporated in wearable electronic devices, desktop computers, tablets and smartphones. These compositions range from structural adhesives, encapsulants, conformal coatings, underfills to sealants, films/performs, glob tops, die attach materials, electrically conductive, and heat dissipative/electrically insulative bonding agents. Different grades are compounded to fulfill a wide range of performance characteristics such as protection against corrosives, temperature fluctuations, moisture, abrasion, impact, vibration, shocks, airborne contaminants, and electromagnetic interference.
Implementation of smart manufacturing (Industry 4.0) has demonstrated accelerated growth prospects in response to ever evolving market demands. Deployment of smart factory initiatives can accommodate innovation and diversity. These capabilities can augment reaching processing objectives. Flawless execution of Master Bond products is absolutely vital to deliver the connectivity requirements under disparate conditions. Cloud computing, robotics, and artificial intelligence help facilitate these goals. Reliable, industrial networking solutions employing wired or wireless connections must meet data privacy, authenticity, security standards. As design challenges proliferate, affordable sensors tailored for unique needs have gained popularity.
Some examples of these types of sensors are:
Temperature
Acceleration
Humidity
Tilt
Motion
Flow
Force
Load
Vibration
Sound
Strain
Chemical/gas
Pressure
They play a key role in the food/beverage, automotive, plastic, oil/gas, logistics/transport, healthcare, energy/power, agriculture, and chemical industries.