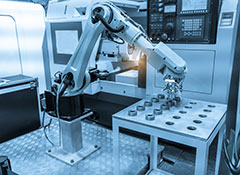 Master Bond structural adhesive bonding systems replace traditional mechanical fastening techniques such as welding/riveting to reduce weight, improve performance, efficiency, durability and prolong longevity of industrial robots. They enable cost effective automated programmed robotic solutions for loading/unloading, testing, inspection, assembling, coating, palletizing, packaging/labeling while upgrading output, safety, quality. Our compounds play a crucial role in providing strength retention/structural integrity between similar/dissimilar substrates, fill gaps, protect against moisture/chemical exposure, vibration/impact, wear, heat, dust to ensure consistent operation in demanding factory work environments. These ruggedized systems help plant personnel perform other tasks and avoid labor intensive menial repetitive jobs often in stressful, dangerous conditions.
Master Bond special adhesive formulations are engineered to satisfy different speed, acceleration, endurance, precision requirements for stationary, wheeled, legged robots without downtime. Heat/room temperature curing one and two part systems have excellent adhesion to ceramic, composite, plastic, rubber, metal surfaces including carbon steel, aluminum, stainless steel alloy steels.Structural adhesives provide even distribution of stress and truly impressive strength properties. Robotic arms are now capable of lifting heavier weights/larger parts with more accuracy. These advanced adhesive systems provide new design opportunities and lower assembly costs. Job proven products have been developed to increase throughput productivity and return on investment for the multifunctional application needs of mining, metal fabrication, construction, healthcare, food/beverage, energy, electronic, entertainment companies.
Robots have become especially important in social distancing compliance during the COVID-19 pandemic. They are presently being deployed for delivering meals, prescriptions, hand sanitizers, disinfecting/decontaminating public places, hospitals with ultraviolet lights, remotely measuring temperatures, blood pressure, broadcasting public service announcements and transporting infectious samples, medical supplies. Healthcare personnel and first responders have been able to perform their tasks more safely even as the workload has intensified with the spike in new cases. Robots have been pivotal in replacing people in high risk areas and have been advantageous in limiting the spread of coronavirus. The future integration of robotics and telemedicine will help in the battle against impending pandemics.
Master Bond is working on developing compounds for next generation robotic surgical devices. As market penetration continues to progress, technological innovation will continue to grow. This will accelerate the utilization of advanced adhesive materials to meet more demanding requirements. Adding additional functionalities, modification of existing procedures, lowering acquisition/maintenance costs, higher efficiency, longer lifespan, lighter, more compact patient cart, optimization of portability, minimization of set up time, upgrade heptic feedback and a work station that provides with a more ergonomic handle design are just some areas where Master Bond adhesives can play a key role in this effort.