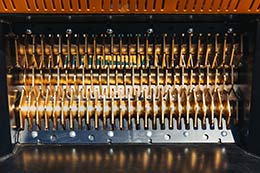 Application specific Master Bond structural adhesive systems have been designed for use in the construction of multiple types of automated and semi-automated industrial shredders. This equipment is engineered in a wide variety of configurations for recycling and waste processing operations. Job proven Master Bond formulations are capable of enhancing performance of shredder machines used for size reduction of bulk waste.
Master Bond adhesives and sealants withstand shock loads, vibrations, high heat, aggressive thermal cycling, and wear and tear. This can result in a significant impact on streamlining operations, minimizing downtime/failures, and decreasing part consumption and maintenance costs.
There are many criteria to consider when selecting the right industrial shredder to meet your specific requirements. Among the most important are what type of material is being processed/shredded, expected output, the feed method, physical size of unit, capacity, health/safety issues, portability, storage specifications, power usage, consistency, installation, and budget. Master Bond adhesive compositions can play a key role in the assembly of the following industrial shredders:
Chippers
Granulators
Hammermills
Specialty shredders
Precision crushers
Knife hogs
Raspers
Maulers
Flails
Crackermills
Refining mills
This equipment is engaged in the size reduction of the following products:
Cardboard boxes
Car body parts
Cables
Beverage cans
Metal drums
Plastic containers
Molded parts
Tires
Carpets
Furniture
Pipes
Batteries
Dishwashers
Refrigerators
Medical waste
Oil filters
Toys
Apparel
Pharmaceuticals
Electronics
Cosmetics
Additionally, parts/components in industrial shredders such as motors, pumps, valves, sensors, power systems, electrical controls can be bonded, sealed, and protected with Master Bond compounds.