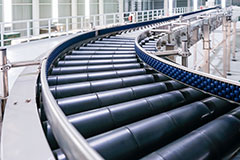 From conveyor systems to automated guided vehicles to industrial forklifts to electric hoists to shiploaders Master Bond adhesives, sealants, coatings offer solutions for material equipment manufacturers. Advanced epoxy, silicone, hybrid epoxy urethanes, UV curable compounds have enabled engineers to optimize design flexibility and assemble products that maximize the utilization of space, increase productivity, lower handling costs. Automotive, aerospace, food/beverage, apparel, healthcare, consumer goods, industrial distribution companies have employed these handling systems for transporting, positioning, loading, storage of supplies/materials. These highly engineered equipment products have played a major role in improving efficiency, flow volume of different types of goods such as solids, liquids, gases, granular materials. Bags, drums, cylinders, pallets, skids, bins/baskets, cartons, crates in different sizes, shapes, weights, building layout, flow pattern, speed of operation are essential considerations to prevent costly interruption or equipment breakdown.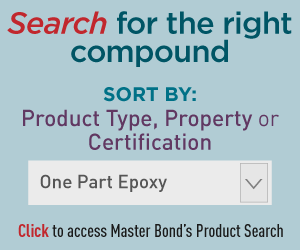 Master Bond has developed a broad range of compounds to meet the difficult operating conditions material handling systems are frequently exposed to. Select epoxy grades feature toughness, thermal stability, resistance to moisture, chemicals, fatigue, impact, vibration, cyclic stresses, abrasion and heavy loads. These compositions adhere well to similar and dissimilar substrates, have outstanding long term strength retention properties and possess both high shear/peel strength characteristics. Gap filling silicone sealants have been advantageous because of their high elongation, use in high temperature environments, maintain their elasticity at low temperatures, easy repairability after cure, movement capability. Single component, no mix UV adhesives have fast cure upon exposure to UV light at the proper wavelength/intensity, contain no solvents, have low shrinkage upon cure, dimensional stability, and can be applied manually/automatically.
Industrial robotic material handling equipment has gained popularity because of its more affordable cost. Master Bond has aided manufacturers of these systems by producing compounds with enhanced capability in service and a cost effective price schedule. Our formulas have contributed to elimination of an unsafe work environment for humans. No longer is it necessary in manufacturing environments for operators to be exposed to toxic substances, lift heavy materials or perform repetitive tasks. Additionally these robotic material handling systems can perform accurately without stopping for long time periods. This has increased profitability for the end user.