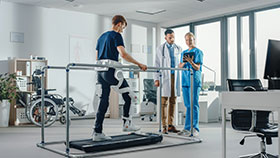 Master Bond produces a wide variety of polymeric adhesive systems which are capable of being utilized in the assembly of key parts/components for robots employed in the global healthcare industry. Compounds are application specific and are engineered to possess impressive mechanical, thermal, and electrical properties. Special formulations are noted for their ability to withstand many chemicals. Common compositions consist of epoxies, silicones, and UV light curable grades.
Examples of robotic parts/components that can depend in Master Bond for top performance include:
Power supplies
Controllers
Motors
Actuators
Vision systems
Grippers
Navigation systems
Display devices
Wiring harnesses
Sensors
Gyroscopes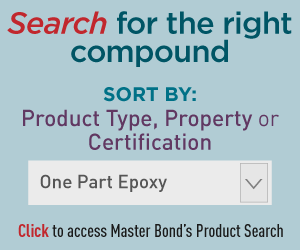 Many Master Bond adhesives can be incorporated in the following types of sensors for medical robots:
Light
Temperature
Contact
Proximity
Sound
Distance
Tilt
Positioning
Acceleration
Humidity
Gas
Some examples of electronic circuit components that potentially rely on Master Bond for medical robots are:
Resistors
Capacitors
Inductors
Diodes
Coils
LEDs
Semiconductors
Switches
Connectors
Transformers
Voltage regulators
Photodiodes
Fixed, mobile, autonomous, remotely controlled medical robots in different sizes/shapes offer numerous possibilities for our compounds. The impact of medical robots is far reaching, diverse and plays an invaluable role in healthcare.
Types of Medical Robots
Surgical robots/robot assisted surgery
Food transport and support robots
Radiotherapy robots
Laboratory robots for repetitive tasks
Rehabilitation robots
Robotic prosthetics
Robots for storage and distribution of medicine
Robots for administrative and logistic tasks
Robotic assisted biopsy
Pharmaceutical robots
Medical robots can minimize human error and expedite medication delivery. They are frequently used to aid patients in hospitals, ambulatory surgery centers, rehabilitation centers, and external radiotherapy centers.