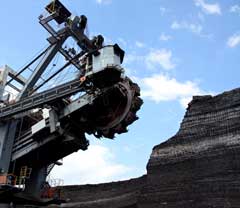 Mining is one of the most crucial industries in the world today. Improving safety and productivity while decreasing environmental impact continue to be important goals in the mining and quarrying industries. Master Bond offers a wide range of epoxies, polyurethanes, silicones and polysulfides used in the assembly of mining equipment. Key properties of Master Bond systems include:
Vibration, shock and impact resistance
High shear and peel strength
Corrosion resistance
High temperature resistance
Outstanding bond strength
Excellent abrasion resistance
Various applications include structural bonding, sealing, conformal coating and potting/encapsulation. Heavy mining machinery that employ Master Bond products are:
Excavators
Drills
Draglines
Dump trucks
Backhoe loaders
Telehandlers
Advanced Master Bond solvent free linings/coatings offer protection against the aggressive, hostile conditions encountered throughout the mining process. Specific grades feature high hardness, prevent degradation from severe chemical attack including splash, spills, immersion, friction, wear and a combination of impact and abrasion. Corrosion mitigation properties on metallic substrates such as cast iron, stainless steel, brass, copper, aluminum have met the highest standards to ensure structural integrity of machinery/equipment and long term reliable serviceability. This has enabled mining companies to avert premature component failure, eliminate the need for costly replacement parts, reduce downtime and the loss of production.
Master Bond metal filled epoxy and elastomeric compounds have been instrumental in such assemblies. Room temperature curing two component stainless steel epoxy has played a prominent role in many sealing and gap filling applications. It is easily machined with conventional tools and exhibits high compressive strength after cure. Aluminum filled compositions are employed for their good void filling capability, dimensional stability, low shrinkage and outstanding physical strength characteristics. These cost effective products are also easily machinable. Special, flexibilized formulas seal/line against stress, pressure, are acclaimed for their tensile/flexural strength characteristics.