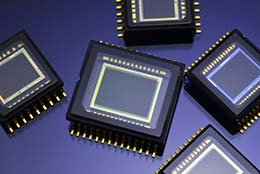 Master Bond formulates diverse epoxy, silicone, urethane modified epoxy, UV cure systems for optical sensor packaging. These products consist of encapsulants, glob tops, thermal/electrical conductive adhesives, conformal coatings, and bonding agents with superior dielectric strength properties. Our compounds can be applied in difficult to access locations, help ensure exceptional accuracy and unmatched reliability. They play a significant role in producing the following types of optical sensors:
Through-beam sensors
Retro-reflective sensors
Diffuse reflection sensors
Motion sensors
Image sensors
Infrared detectors
Light sensors
Position sensors
Photovoltaics
Photodiodes
Safety sensors
Photoelectric sensors
From smart phones, light fixtures, medical sensing, machine vision to computers, copy machines, alarm systems, instrumentation, food inspection, wind turbine blades, automobiles, these compact, lightweight devices are indispensable. Adoption of optical sensors by end users such as companies involved in wireless communication, aerospace, defense, energy, building automation, packaging, logistics, material handling, robotics, healthcare, has been instrumentational in the development of new opportunities and providing a competitive advantage in the marketplace. Growth in demand is due to its impressive capability to measure pressure, temperature, vibration, velocity liquid level, displacement, rotation, acceleration, humidity, strain, acoustic field, force.
Master Bond compositions are engineered to meet stringent quality control standards, can be dispensed automatically or manually and perform flawlessly under hostile environmental conditions. Specific one and two component epoxy grades have excellent wetting characteristics, impressive thermal stability, low shrinkage, a variety of hardnesses and cure speeds. They guard against chemical exposure, have low moisture absorption and extraordinary bond strength between similar and dissimilar substrates. Unique epoxy compositions are NASA low outgassing approved, have low coefficient of thermal expansion, flame retardant, have high Tg and pass damp heat storage testing at 85C/85% relative humidity. Particularly noteworthy are systems that withstand abrasion and corrosion.
Master Bond electronic grade silicone products are serviceable from -55°C to 200°C. Special grades can resist up to 300°C. Low viscosity compounds flow easily and are ideal for conformal coating, encapsulation applications. Products are flexible and protect against humidity, fungus, shock, vibration, impact, contaminants, wind, rain, UV light, abrasive particles. These soft, low durometer elastomers provide stress relief during temperature fluctuations and possess excellent electrical insulation features. They are chemically inert and available both optically clear or opaque. Distinct products are engineered to offer thermal conductivity for heat dissipation, biocompatibility, meet UL 94V-0 and UL94V-1 specifications for flame retardancy, high glass transition temperatures. Master Bond silicone adhesives bond well to glass, metal, many plastic and rubber substrates. They also will adhere to other silicone surfaces. Specific two part silicone systems are designed to cure in wide cross section thicknesses. Compounds are ROHS compliant.
Two component Master Bond urethane modified epoxies are isocyanate-free. They exhibit toughness, versatile cure schedules, minimal shrinkage, outstanding cohesive strength and superb abrasion resistance. Fast curing systems increase productivity. Resilient, soft gel grades are desirable for sealing fragile electronic and optical components. These compounds have good dimensional stability, low exotherm, convenient room temperature cures, magnificent electrical insulation properties. Thixotropic paste viscosities are recommended for sealing gaps.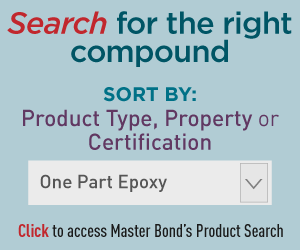 Master Bond single component, no mix free radical and cationic curing UV curing systems contain a wide variety of oligomers, monomers, additives and photo-initiators. These compositions are used to solve many challenging requirements for optical sensor manufacturers. Environmentally friendly, solvent-less liquid materials increase efficiency and lower energy consumption. In many cases they cure completely tack free in only seconds. They are extensively recognized for their electrical, thermal, chemical and mechanical characteristics. Flexible and rigid curing compositions have proven beneficial in bonding, sealing, coating, encapsulation in numerous endeavors. Some important contributions include elimination of waste, no pot life problems, optimization of assembly speed, shorter lead times, immediate parts handling. Master Bond dual cure compounds have enabled "shadowed" out areas to be completely cured upon exposure to heat. These products are employed where full exposure to UV light is limited because of part geometry. They are frequently used for bonding heat sensitive substrates. Fast fixture times ensures precise positioning and alignment.