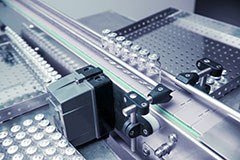 From pharmaceutical mixing equipment to biosensors to inspection systems to filling machines to dryers to checkweighers to positive deplacement pumps Master Bond adhesives, sealants, coatings deliver reliable, high quality performance. Our USP Class VI certified products and FDA 175.105, 175.300 food grade products have been designed to comply with critical precise needs in select applications to ensure dependability, efficiency, safety. These polymeric compositions feature high strength, thermal stability, can absorb stress, resist impact, vibration, shock, thermal cycling for use in multiple work environments. They maintain their structural integrity after long term exposure to challenging conditions and provide engineers flexible options in equipment design. Durable sealants extend machine longevity by containing liquids/gases, filling gaps, providing elongation, elasticity, fatigue/team resistance, offering movement capability, low shrinkage, blocking noise.
Among the chief attributes of these systems include grades that feature thermal/electrical conductivity, optical clarity, withstand exposure to steam autoclave, EtO, radiation, chemical sterilants such as hydrogen peroxide, Cidex®, Sterrad®. paracetic acid, frozen storage conditions, meet toxicological requirements of the NSF/ANSI S1 (2009) Standard for Food Equipment Materials as defined in section 4.1. Fast curing compounds are engineered to cure rapidly at room temperature or upon exposure to high temperatures to expedite productivity. Products can be applied manually or automatically. Low viscosity electrical insulative systems have excellent flowability and are ideal for potting/encapsulation.
Downward pricing pressure for prescription drugs, loss of patent exclusivity, lack of new blockbuster medicines, shifting demand for generics, rising research development costs, increased selling expenses, slowing industry growth are among the obstacles faced by the pharmaceutical and the biotechnology industries. To facilitate increased yields and lower expenditures pharmaceutical companies are working diligently with equipment manufacturing companies to implement advanced processing through the use of adaptable automation, robotic systems to heighten the capabilities of such equipment in different configurations. Master Bond has been at the forefront of supplying compounds to satisfy these adjustable requirements. We have also played a leading role in helping equipment companies custom build innovative machinery to overcome existing constraints experienced by pharmaceutical manufacturers. Emerging new technologies should have a major impact in making a broad range of drugs more readily accessible, enhance affordability, targeting diseases and preventing illnesses.