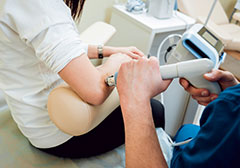 Master Bond is a leading supplier of adhesives, sealants, coatings, potting, and encapsulation compounds for the physical therapy equipment market. Our comprehensive line of formulations has played a significant role in the assembly of physical agents and devices, both surgical and nonsurgical, to facilitate recovery and improve quality of life for patients affected by a wide range of orthopedic dysfunction, strokes, amputations, and chronic painful conditions.
Most noteworthy has been our ability to provide technical assistance in advising engineers and designers on the ideal Master Bond product during the early stage of new product development to ensure functionality and durability in rehabilitation clinical settings. While used extensively in common devices such as ultrasound machines, electrical stimulators and thermal equipment, some newer applications of Master Bond products are in prosthetics and simulator mannequins. Bionic prosthetic limbs provide a noteworthy example of the utility of Master Bond's specialized products in high-tech design.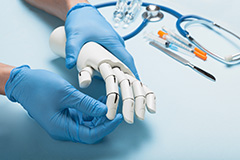 For a Transradial Socket for Arm Prosthesis Master Bond EP42HT-2ND-2Med Black was selected as the adhesive to join the stainless steel mesh edges together, to join the polyurethane strip to the stainless steel mesh, and to attach the closure to the mesh. EP42HT-2ND-2Med Black met the requirements for joining the plastic and metal materials, filling the mesh gaps, and not irritating the skin.
Physical therapy services are increasingly recommended and sought by patients to manage activity-limiting conditions. Physical therapists provide specialized health care services in numerous settings including hospitals, rehabilitation centers, orthopedic/sports medicine clinics, schools, fitness centers and worksites. The Bureau of Labor Statistics projects the growth of physical therapists at a rate of 18% per year until 2029, a rate much higher than other industries. This is in part due to the aging baby boomers, a focus on fitness and prolonged life expectancy. Devices constructed with consideration of the biomechanical demands of prolonged activity, a focus on user interface through ergonomic design, along with evolving technology suggests that a proliferation of novel products will be required to meet physical therapists' needs for the foreseeable future.
Master Bond is uniquely situated to serve the developers of physical therapy equipment. In addition to offering unparalleled quality formulations, Master Bond is an industry leader in providing designers and engineers with custom adhesives, sealants and coatings that meet the exact specifications needed, at the earliest stages of product development. Some of these features include:
ability to bond similar and dissimilar materials
withstand wide temperature ranges including thermal cycling, vibration, impact, shock, and acceleration
resist degradation from exposure to chemicals used for cleaning and various sterilization modes
array of colors from clear to matched shades of other materials
range of cures from soft and flexible to rigid and stiff
precise cure times including UV and LED curing
solvent free compositions in a variety of viscosities from flowable grades to thixotropic non-drip gap filling compounds
single component epoxy adhesives require no mixing and curing rapidly at low temperatures
manual or automatic dispensing
Tough, durable long lasting Master Bond structural adhesive systems offer exceptional shear, peel, and compressive strength properties between similar/dissimilar substrates. All of our compounds are manufactured to meet stringent quality standards, offering products that are reliable, with consistent and reproducible results. Special packaging options from Master Bond include FlexiPak®, gun applicators, syringes, and cartridges, can reduce waste while maximizing productivity.