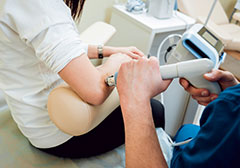 Master Bond is a leading supplier of adhesives, sealants, coatings, potting, encapsulation compounds for the physical therapy equipment market. Our comprehensive line of formulations have played a significant role in the assembly of apparatus enabling patients affected by major surgery, genetic disorders, broken bones, special cancer treatments, strokes, severe infections to perform tasks independently. Most noteworthy has been our ability to provide technical assistance and recommending select Master Bond products for use on:
Ultrasound equipment
Electric stimulation devices
Cryotherapy equipment
Therapeutic exercise equipment
Heat therapy systems
Hydrotherapy equipment
Continuous passive motion therapy equipment
Manual muscle testing devices
Shockwave therapy equipment
Laser therapy equipment
Magnetic therapy equipment
Health care providers working with licensed physical therapists in a temporary or ongoing basis have been highly successful in many cases in compensating lost patient function with different types of physical therapy equipment. Amazing, remarkable, rehabilitation progress has been made in improving mobility, balance, restoring muscle function to lessen pain, manage osteoporotic conditions, limb amputation, hip fractures and enhancing endurance. Additionally, it needs to be pointed out that physical therapy negates the need for surgery, helps avoid the use of dangerous opioids, can provide relief from herniated discs, degenerative disc disease, hip misalignments, boosting reaction times, grip strength, flexibility, coordination.
Master Bond constructed physical therapy equipment is widely available for use in hospitals, inpatient rehabilitation centers, schools, sports/fitness facilities and work settings. It is an appealing treatment option for many common sports injuries such as fractures, strains, tennis elbow, hip flexors, twisted ankles. Prior training techniques, lack of conditioning to fatigue, unsafe exercising environments, structural abnormalities, accidents, falls and reasons athletes attain minor to severe injuries. Utilization of specialized equipment can rebuild strength, motion and help prevent further injury.
There are multiple advantages of staying in shape with exercise equipment. They range from heightened energy, better sleep, muscle tone, magnifying endurance, elevating psychological well being, superior agility, weight management, raising self-esteem, lower blood pressure, cholesterol, fortify your heart and reduce the risk of heart disease, stroke, different types of cancer. Aerobic exercise equipment assembled using our structural adhesives and electronic grade materials are as follows:
Stair steppers
Stationary bikes
Treadmills
Ellipticals
Rowing machines
Cross country ski machines
Mini pedal exercisers
Parallel bars
Tough, durable long lasting Master Bond structural adhesive systems offer exceptional shear, peel, compressive strength properties between similar/dissimilar substrates. our solvent free compositions are obtainable in a variety of viscosities from their flowable grades to thixotropic non-drip gap filling compounds. These readily accessible, affordable products are engineered to withstand exposure to vibration, impact, shock, acceleration, cleaning fluids, hot temperatures, abrasion, moisture. Single component epoxy adhesives require no mixing and will cure rapidly at low temperatures. Value added formulas exhibit high dimensional stability, absorb sound, can be purchased to match a color and are easily dispensed manually or automatically. All of our compounds are manufactured to meet stringent quality standards and product reliable, consistent, reproducible results. Special packaging options from Master Bond including FlexiPak, gun applicators, syringes, cartridges, will reduce waste, maximize productivity.