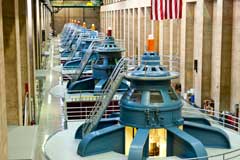 Master Bond's reliable and high performance adhesives, sealants, coatings and potting compounds are designed for easy application. Cost effective, these formulations reduce the need for spare parts and significantly shorten downtime. Specific grades feature the ability to repair or rebuild worn metal parts, protect against corrosion and endure high temperature exposure.
Typical Uses for Master Bond Adhesives, Sealants and Coatings in the Power Industry
Master Bond products increase efficiency and are employed in many critical maintenance and repair applications for:
Scrubbers
Bushings
Metal bearings
Worn and/or damaged machine tools
Scored rams
Fractured pipes
Special epoxy systems feature stainless steel, aluminum and ceramic fillers. Flexible and rapid curing systems are also available for use.