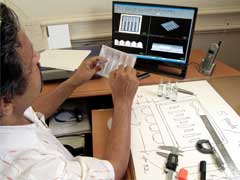 New product designs are instrumental to satisfy customer needs/loyalty and increased revenue. This complex process involves much risk and successful implementation is essential for future growth. Master Bond's advanced line of adhesives, sealants, coating, potting compounds has played a pivotal role in ensuring performance/processing capabilities that far exceed customer specifications in new product designs. Our knowledgeable team of technical experts will collaborate with design engineers to help select the best paste, liquid, film formulation for your requirements. Careful consideration is given to serviceability, reproducibility, reliability, dependability, ergonomics, appearance to optimize equipment functionality, reusability, sales potential. Versatile compositions have enabled manufacturing companies to improve throughput speed/productivity, eliminate waste, lower costs. This has resulted in an impressive competitive advantage/profitability for companies pursuing high quality design standards.
Modifications of existing products or custom formulations are engineered by adjusting:
Viscosity
Cure schedule
Hardness
Density
Temperature and chemical resistance
Electrical and thermal conductivity
Shock and vibration resistance
Tensile strength
Impact strength
Compressive strength
Stress-strain behavior
Dielectric constant
Dissipation factor
Volume resistivity
Eco friendly products can be effectively applied manually/automatically to adhere multiple similar/dissimilar bonding combinations. These systems have been designated for use in hostile environmental conditions. Compositions have been developed to allow miniaturized, lightweight, low cost assembly of electronic devices in large volumes, reduce noise, vibration, harshness (NVH) in autos and for joining heat sensitive substrates. Value added materials also offer solutions for bonding joints under thermo mechanical stresses.