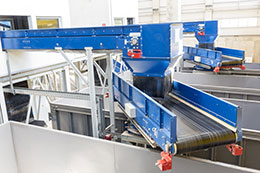 Master Bond offers a wide range of custom formulated structural adhesives for many types of recycling equipment. Our products offer innovative solutions to improve efficiency, increase the recovery rate, lower energy, labor costs, meet stringent environmental requirements, increase productivity, optimize safety. High performing formulations provide durability, toughness, protect against corrosion, wear, abrasion and resist exposure to vibration, impact, shock, high/low temperatures, moisture, chemicals. Customized systems have been developed to facilitate attaining remedies to challenging problems.
Master Bond compounds feature exceptional bond strength to similar and dissimilar substrates, versatility, evenly distribute stress and can be used for complex shapes. Sound dampening characteristics are quite impressive. Fast fixture times and room temperature curing systems are highly advantageous in many applications. Most importantly, these products provide engineers design flexibility and are engineered to accommodate new end-user objectives.
Master Bond's line of specialty adhesives can be employed in the assembly of the following types of recycling equipment:
Balers
Compactors
Granulators
Grapplers
Conveyors
Shredders
Trommels
Separators
Densifiers
Vibratory Feeders
Metal Shears
Vibratory Screeners
These rugged machines operate under arduous conditions. They play an essential role in conserving natural resources, reducing pollution/greenhouse gas emissions, decreasing energy consumption. Additionally they minimize the amount of waste sent to landfills, scale down incinerations, curtail deforestation, advance sustainability/biodiversity and create jobs in the recycling industry. Common materials that are recycled consist of ferrous/non-ferrous metals, glass, rubber, plastics, electronic equipment.