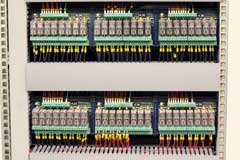 Low viscosity epoxy potting and encapsulation compounds feature high performance and easy application in relay manufacturing applications. Master Bond epoxies offer low stress, room temperature cures, resistance to vibration/impact and thermal cycling. Our advanced epoxy formulations ensure durable, long term solutions to help you increase your application productivity.
Key Benefits of Master Bond Potting/Encapsulation Compounds for Relays
Systems are available for use featuring a wide range of hardness. Specific grades have a variety of properties including:
Outstanding electrical insulation
Thermal conductivity
High bond strength
Low shrinkage
Corrosion resistance
Thermal stability
Long pot life
Potting/encapsulation compounds are solvent free and contain no diluents. They feature convenient mix ratios and cure schedules. New product developments include faster curing systems and a UL94V.0 flame retardant compound with a halogen free filler.