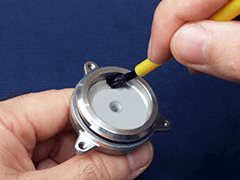 Master Bond high performance repair/rebuilding compounds reduce equipment downtime and lower costs. These products protect against abrasion, wear, corrosion, chemical exposure and feature long term durability. Grades offer thermal stability, high physical strength properties, easy application and fast cures at room temperature. They can be purchased in convenient pre-measured kits.
Common applications include bonding, gasketing, coating and rubber/metal repairs. Our formulations have been successfully employed to repair/rebuild:
They have provided solutions to critical needs for:
Pumps
Offshore structures
Chemical containment areas
Heat exchangers
Compressors
Engines
Master Bond has developed a wide range of industrial adhesives to meet specific requirements. Most noteworthy for maintenance needs are stainless steel and aluminum filled epoxy systems. They offer enhanced machinability, superior gap filling properties and exceptional bond strength to ferrous and non-ferrous metals. Also, increasingly popular are silicon carbide filled epoxy systems which provide unmatched protection against abrasion and wear.
Cost effective, solvent free liquid, paste epoxy systems can be conveniently applied by brush, spatula, spraying, etc. and have been successfully employed for casting/reconstruction, protective lining, impact damage repair, sealing/filling, patching. These products guard against salt spray, chemical immersion from acids, bases, salts, alkalis, adverse weather, erosion, high pressure, and underwater situations. Flexible elastomeric materials have superior peel strength, excellent tear/abrasion resistance and are used to repair rubber linings, rubber clip joints on conveyor belts, pump impellers and torn areas of rubber. RTV silicone rubber gasketing sealants have outstanding elongation, high temperature resistance up to 300°C, absorb vibration, shock and will not dump or drip on vertical or overhead surfaces. Fluorosilicones have exemplary resistance to chemicals and offer an impervious barrier between flange surfaces. Proper surface preparation procedures and correct application methods are essential to optimize performance. These polymeric materials play a key role in reducing the need for spare parts and decreasing capital expenditures to improve profitability. Efficiency of equipment and health/safety concerns have also shown impressive improvement by using these products.