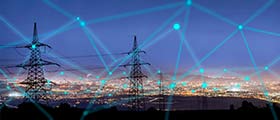 Future implementation of smart grid technology offers an exceptional opportunity to advance the capabilities of our traditional U.S. power grid system. Master Bond has the technical expertise and unique epoxy, silicone, and UV curable formulations to assist in finding solutions for bonding, sealing, coating, potting, and protecting electrical/electronic components for utilization in the smart grid. These one and two component solvent free systems potentially can help resolve complex sensing, communication, control, monitoring, transmission, and power generation issues. Prospective applications for Master Bond products include the following smart grid components.
Master Bond products exhibit an impressive array of electrical, thermal, and mechanical properties along with superior chemical resistance characteristics. Some key properties of specific Master Bond grades for prospective smart grid components are shown below:
Durability
Improved toughness
Vibration and shock resistance
Adhesion to similar and dissimilar substrates
Corrosion resistance
Low shrinkage
Superb fatigue strength
Creep resistance
Gap filling capability
Moisture, chemical, and abrasion resistance
Resistance to high/low temperatures
High shear and peel strength
Easy dispensing
Modernization of an aging grid infrastructure is capital intensive and will require supportive governmental policies. The benefits attained from smart grid operations are enormous. This endeavor will have positive consequences by restructuring energy usage for the industrial, residential, commercial, and utility systems of the economy for many generations. Among the major accomplishments emanating from the smart grid are:
Reliable and efficient generation, delivery, consumption of electricity
Adjust energy flow automatically
Quicker restoration of power after a disturbance (self-heals)
Optimize asset utilization
Reduce probability of quality disturbances and blackouts
Fewer equipment failures
Rapid diagnosis of system problems and service restorations
Decrease carbon emissions
Automate home energy usage
Extending life of existing assets
Integration of a mix of energy sources
Development of innovative hardware components will play a decisive role in this important undertaking.