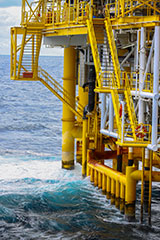 Specially formulated high build epoxy splash zone coatings are designed to withstand:
Abrasion
Erosion/corrosion
Impact
Salt spray
Continuous cyclic wet/dry conditions
UV exposure
Flexing
Chemical contact
These solvent-free compounds are employed above/below water lines on properly prepared substrates free of grease, paint, rust, dirt and marine growth. A hard protective epoxy barrier bonds well to aluminum, steel, galvanized steel, fiberglass and other substrates in hostile fresh/salt water environments.
Products maximize working life and lower operating expenses of offshore structures including drilling rigs and production platforms. Coatings are engineered to be applied in confined areas in the required thicknesses to meet specifications. Specific grades cure rapidly, fill voids/cracks and feature impermeability to many chemicals such as oils, fuels, lubricants, organic solvents. This enables marine maintenance specialists to minimize downtime and yield high productivity as these vital structures gap.