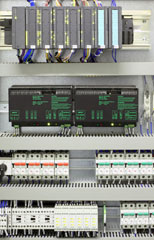 For over thirty years, Master Bond has been a supplier of epoxy solutions for electric switch manufacturers. These outstanding systems are formulated with industry leading performance properties for durable and reliable long term potting, sealing and bonding solutions.
Master Bond epoxies may be employed for:
Hand switches
Limit switches
Process switches
Specific examples include:
Float switches
Circuit breakers
Inertial switches
DIP switches
Membrane switches
Pressure switches
Among some of the major benefits of using Master Bond potting and sealing compounds for electric switches are:
Vibration, shock, and impact resistance
Thermal conductivity
Outstanding electrical insulation properties
Low shrinkage
Resistance to corrosive agents
Excellent adhesive strength
High and low temperature resistance
Low viscosity
Master Bond offers one and two component systems. They can be formulated with varying viscosities, hardness and cure speeds to meet specific application needs. Special grades offer:
Low exotherm
Superior moisture resistance
High Tg
NASA low outgassing approval
USP Class VI certification
Dimensional stability
Excellent dielectric properties
Flame retardency-UL 94V0 approved
Long working life
Recent technological developments have led to innovative switch designs. Master Bond has been at the forefront of creating new formulations to meet these challenging requirements. Compounds are now available that greatly enhance productivity.