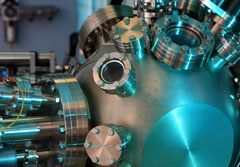 Master Bond has developed epoxy adhesive systems that can be used at pressures down to 1 x 10-12 torr. Formulations meet NASA ASTM E595 standards and are employed in structural bonding/sealing, coating and potting/encapsulation type applications. These low outgassing compounds avoid contamination, weight loss, degradation, even at elevated temperatures. Specific grades resist solvents, alcohols, lubricants, mild acids, alkalies, are serviceable from 4K to 400°F and have excellent insulation characteristics. These products adhere well to glass, ceramics, most plastics and metals such as austenitic stainless steel, mild steel, aluminum/aluminum alloys, bronze, nickel and brass.
These low vapor pressure materials play a valuable role in chemistry, physics and biology research. They are also used in many industrial processes including drying, distillation, mechanical handling, packing, forming and filtration. From valves, tubing connectors, couplings to fittings, flanges to transport devices, robots to measurement instruments Master Bond adhesives have met the challenges of the vacuum technology industry. This includes the harsh exposure of outer space.
How have these products been used?
Master Bond products are cited in over 300 research articles published in peer-reviewed scientific journals. They are also cited in over 800 US and international patents. Here are a few cases of high vacuum applications in research labs and commercial use.