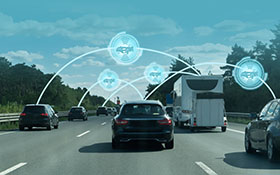 Master Bond is participating in the development of wireless inter-vehicle communication systems in order to ease road congestion/delays, optimize routes, improve fuel efficiency and to eradicate costs of collision repairs. Our highly motivated team of technical experts are working diligently to formulate special adhesive products for constructing dedicated short range communication (DSRC) devices. We are also actively pursuing promising specialty solutions for the assembly of GPS receivers, inertial navigation systems and for LIDAR applications. Through the use of Master Bond compounds vehicles such as cars, trucks, buses, motorcycles will be able to reliably receive real time traffic information to adopt to changing conditions.
Rapid deployment of this vehicle to vehicle (V2V) technology is pivotal in addressing major safety concerns and driver convenience. Speed, location, braking status, positioning of surrounding vehicles, route guidance, road conditions can be spontaneously transmitted between vehicles. Additionally visible, audible alerts will be able to prevent potential crashes by warning drivers over a 360 proximity. Detection of obscured traffic, terrain, a car running a red light, left turn assist, do not pass warning, are serious crash scenarios that can be avoided.
Master Bond cutting edge structural adhesives, conformal coatings, underfills, encapsulants, thermal management materials, glob tops, optical lens bonders have been tailored to provide advanced performance for V2V communication systems. As the use of devices proliferate in the near future it is of utmost importance that they are capable of operating impeccably under the most stringent conditions that these devices are exposed to in service. This includes high/low temperature fluctuations, impact, salt fog, UV, fatigue, ice wind, vibration, harshness, corrosive chemicals, dust, dirt, airborne contaminants, moisture, etc.