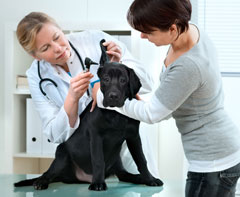 Master Bond is at the forefront of developing adhesive, sealant, coatings systems used in instruments, apparatus and machinery for improved outcomes for veterinary patients. These products are employed for diagnosis, treating wounds, setting fractures, performing surgery and emergency care. This includes the following devices:
X-ray equipment
Surgical stapling guns
Laparoscopic instruments
Blood pressure monitoring systems
Ventilators
Prosthetic devices
Catheters
Stethoscopes
Ultrasound machines
Veterinary Devices Treat Both Companion and Animal Health
These devices are for gastrointestinal, neurological, respiratory, imaging, dermatological, ophthalmological and other health issues. They treat:
Canines
Felidae
Cattle
Sheep
Pigs
Equines
Goats and other animals.
Adhesive Properties of Veterinary Devices
Master Bond veterinary device compounds are biocompatible and resistant to EtO, radiation, steam autoclaving and cold chemical sterilants. These one and two component systems can be applied manually, semi-automatically or automatically. Specific grades feature high bond strength, toughness, high/low temperature resistance and withstand vibration/impact/shock. Instant curing single part cyanoacrylates have fast fixture times and are recommended for high volume assembly applications. UV/visible light curing systems are available in syringe applicators, require no mixing and are environmentally safe.