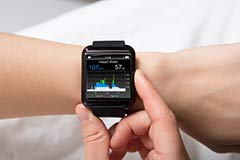 Technological advances for medical wearable devices are growing expeditiously. Master Bond is at the forefront of developing compounds to keep pace with the exacting performance and processing needs of this thriving market. Our epoxies, silicones, and UV curable compounds have played a leading role in creating new opportunities by helping expand device functionalities. This has assisted our customers in obtaining a competitive advantage and delivering increased market share and augmenting profitability.
High quality Master Bond adhesive products have played a vital role in joining similar/dissimilar substrates such as metals, composites, and plastics. These compounds offer enhanced design flexibility and have enabled medical wearable device manufacturers to develop more compact, lightweight, thinner, easy to use, comfortable, and lower power systems. Our application specific formulations are engineered to resist:
Vibration, impact, shock
Humidity
Corrosion
Perspiration
Sunscreen
Normal wear and tear
Soda
Water immersion
Pollution
Cleaning fluids
Fungus
Sterilization
High/low temperatures
Thermal cycling
Electrically conductive, electrically insulative and heat dissipative compounds are available for use in a variety of viscosities, gel times, cure speeds, colors etc. Select grades meet USP Class VI requirements for biocompatibility and pass ISO 10993-5 guidelines for non-cytotoxicity. From glob tops, form in place gasketing, conformal coatings, encapsulants to thermal management materials, structural adhesives, non-conductive thixotropic pastes, liquid gap fillers, no mix instant bonding agents, our products provide consistent, reliable, flawless solutions for the assembly of medical wearable devices.
Some of the most significant advantages of wearable healthcare devices are as follows:
Early detection of disease
Improved diagnostics
Enhanced accuracy with real time data
Monitor patients remotely
Ability to get timely support
Track fitness as part of wellness program
Chronic disease monitoring
Rehabilitation
Confirm efficiency of treatment
Master Bond products are capable of being deployed in the fabrication of important wearable medical devices. They include:
Pulse oximeters
Blood pressure monitors
Heart rate monitors
Sleep trackers
Sensing devices
Wrist actigraphs
Activity trackers<
Smart watches
Accelerometers
Polysomnographs
Posture monitors
Heart straps
Smart glasses
Neurostimulation devices
Electromyographs

vSpirometers

Positive airway pressure (PAP) devices
Body temperature monitoring devices
Videoscopes
Particularly noteworthy is the contribution Master Bond has made in aiding the production of innovative medical wearable devices. Our systems have increased throughput, boosted fixture/cure speeds, effectively sealed enclosures subjected to high/low temperatures and high pressure. Systems provide vibration protection under chemical attack, abrasion, and wear. They exhibit good dimensional stability, optical clarity, low shrinkage, and are aesthetically pleasing. Low stress systems have a low modulus of elasticity and have high elongation properties. Low outgassing and even stress distribution provide stable long-term performance. Our products are solvent free and ROHS compatible. UV cure systems cure rapidly and UV + Heat (dual) curing products enable curing in shadowed out areas with a secondary heat cure mechanism of 80°C.