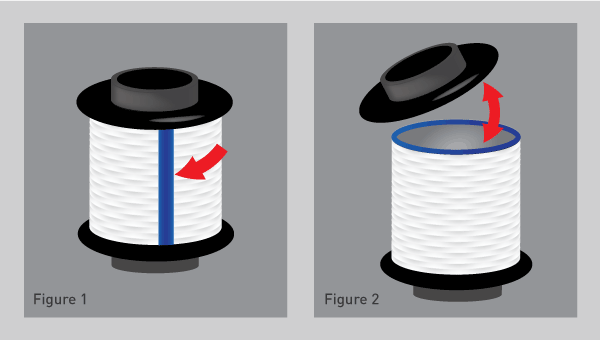 Master Bond adhesives are used in making high performance filters. Specifically, they are highly effective in sealing filter membranes (Figure 1) and bonding end caps (Figure 2).
Master Bond epoxies and polyurethane based adhesives are used in industrial filter applications for seam sealing, edge sealing/fixing, joining first/last pleat, bonding metal end caps, molded end caps, gasketing and hollow filter potting. They are employed in a wide range of industries including oil, gas & chemical processing, clean rooms, metal processing, mining, electronics, medical and aerospace among many others.
Properties of Adhesives for Filter Assembly Applications
Our advanced polymer systems feature outstanding durability, extremely high shear and peel strengths, controlled exotherm and remarkably low shrinkage. In addition to the superior performance properties, they are available in a variety of viscosities including self-leveling and non-sagging. Since each application is unique, our products can be customized to meet specific requirements including:
Room temperature or heat curing
Distinguished chemical resistance
Phenomenal resilience to high/low pressures and temperatures
Unparalleled mechanical strength properties
Master Bond has developed a number of versatile and exceptional products that can endure the most extreme environments for effective filtration. Our products are most commonly used in HEPA, air and separation filters for seam sealing, frame bonding, edge sealing/fixing, joining first/last pleat, bonding of metal end caps, molded end caps and bonding of paper end caps.Also, they can be manually or automatically dispensed. Custom packaging options include gun applicators, syringes and cartridges.
Adhesives for Filters for Upstream/Downstream Applications
Separation, extraction and purification are essential to meeting critical reliability for oil/gas company operations. From hydraulic systems to turbine/compressor protection to liquid fuel systems to contamination control for LNG production, Master Bond epoxy/polyurethane modified epoxy bonded filters offer unmatched serviceability under harsh conditions. Durable, toughened, high/low viscosity systems feature resistance to heat, impact, thermal cycling, shock and superior bond strength. They also withstand exposure to aggressive solvents, hydrocarbons, oils, gasoline, coolants, water and hydraulic fluids.
Long lasting one and two component formulations have been engineered to exact specifications to eliminate unplanned shutdowns, equipment failure and improve efficiency for refineries, power generation, onshore/offshore oil equipment. One component epoxy systems require no mixing, are fast setting at low temperatures, have low shrinkage and reduce wastage. They are frequently employed in corrosive, high pressure environments. Long pot life, two component adhesives/encapsulants have convenient mix ratios, low exotherm and outstanding electrical insulation characteristics. They can be dispensed automatically, semi-automatically or manually and lower labor costs. Job proven solvent free products have exceptional tear resistance, outstanding dimensional stability and are ideal for harsh filtration and microfiltration environments.
Master Bond features an extensive product line for a variety of applications including bonding, sealing and coating in the filters and filtration systems market. Through collaborative efforts with leading filter manufacturers, Master Bond has developed a number of thermally stable and chemically resistant epoxies and polyurethanes for harsh environments where filters are used.