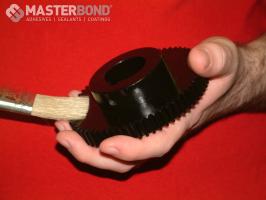 Master Bond Inc. of Hackensack, New Jersey has developed a new two component epoxy system for service above 500°F. Called EP125, this compound is designed to withstand exposure to boiling acids, alkalis, salts, fuels and most organic solvents. It offers high bond strength to metallic and nonmetallic surfaces. Typical lap shear strengths are in the order of 2,400-2,500 psi at ambient temperatures. After heat aging for 1,000 hours at 500°F, slightly less than 50% of the original bond strength is retained. Castings exhibit flexural strength as high as 15,000 psi and flexural moduli of more than 500,000 psi.
Master Bond EP125 has a convenient mix ratio of 2 to 1 by weight. It requires an elevated temperature cure. Cure cycles can be widely adjusted so as to best meet specific processing needs. It has a storage stability of 6 months when stored at ambient temperatures in the original closed containers. EP125 is available in 1/2 pint, pint, quart, gallon and 5 gallon pail kits.
For Editorial Use
Click below to download this release in the format of your choice.
News Release Images
Click an image to download a high resolution version in JPEG format.