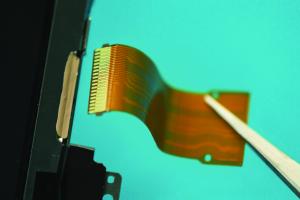 Featuring a low coefficient of thermal expansion (CTE) of 15-20 x 10-6 in/in/°C, Master Bond EP13LTE is a one part epoxy for structural bonding applications. "EP13LTE is very convenient to use, since it doesn't require mixing, and has an unlimited working life at room temperature," said Venkat Nandivada, manager of technical support. "Besides being easy to handle, this system also offers superior resistance to high temperatures, with a glass transition temperature of approximately 160°C."
EP13LTE cures readily in 1-2 hours at 300-350°F. This epoxy paste has limited flow while curing. It bonds well to many substrates such as metals, glass, composites, ceramics and plastics. Once cured, EP13LTE has an impressive strength profile delivering a tensile lap shear strength of 2,600-2,800 psi, a compressive strength of 24,000-26,000 psi and a tensile modulus of 500,000-550,000 psi. This dimensionally stable system is able to withstand 1,000 hours at 85°C/85% RH and maintain a Shore D hardness of 90.
With a volume resistivity exceeding 1015 ohm-cm, EP13LTE has reliable electrical insulation properties. This system also passes ASTM E595 testing for NASA low outgassing. It is serviceable over the wide temperature range of -60°F to +500°F [-51°C to +260°C]. This tan colored system is available for use in syringes, jars, ½ pints and pint containers.
For Editorial Use
Click below to download this release in the format of your choice.
News Release Images
Click an image to download a high resolution version in JPEG format.