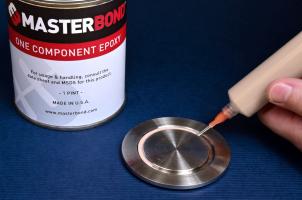 Primarily used for testing the adhesion or cohesive strength of flame sprayed coatings as per the ASTM C633 specification, Master Bond EP15 produces high strength bonds across a wide variety of applications. This one component epoxy bonds well to many similar and dissimilar substrates. Particularly noteworthy is its adhesion to metals and ceramics.
Featuring a tensile strength exceeding 12,000 psi at room temperature, this 100% reactive system offers superior dimensional stability with minimal shrinkage upon cure. It is serviceable from -60°F to 250°F. EP15 has superior chemical resistance properties and withstands thermal cycling.
As a one part system, EP15 features an unlimited working life and does not require any mixing prior to use. This system offers good flow properties with a viscosity of 40,000-65,000 cps and can be easily applied with a brush, paint roller or spatula. It cures quickly in 60-90 minutes at 300-350°F.
The standard color for this epoxy is tan and it is available in many sizes, including 1/2 pint, pint, quart, gallon and 5 gallon containers. Master Bond EP15 has a minimum shelf life of 3 months when stored in original, unopened containers.
For Editorial Use
Click below to download this release in the format of your choice.
News Release Images
Click an image to download a high resolution version in JPEG format.