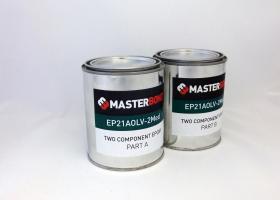 With biocompatibility and cytotoxicity certifications, Master Bond EP21AOLV-2Med is often selected for bonding, sealing, coating and encapsulation applications in the medical device industry. This two component epoxy system withstands a variety of sterilization methods, including EtO, radiation and many cold sterilants.
EP21AOLV-2Med is thermally conductive and electrically isolating with a smooth consistency and good flow properties. It bonds well to metals, composites, glass, ceramics, plastics and many rubber materials. This dimensionally system offers a high tensile modulus of 450,000-500,000 psi, a compressive strength exceeding 18,000 psi and very low shrinkage upon curing. EP21AOLV-2Med's viscosity and low coefficient of thermal expansion enable it to be suitable for potting and encapsulation applications. It also resists many chemical including water, oils and fuels. This medical grade product is serviceable over the temperature range of -60°F to +250°F.
Featuring a one to one mix ratio by weight, a 100 gram batch of EP21AOLV-2Med has a working life of 4-6 hours at room temperature. Part A is gray and Part B is off-white, which further simplifies mixing. It can be easily applied with a spatula, knife, trowel, brush or paint roller.
This system cures at room temperature or more rapidly with the addition of heat. EP21AOLV-2Med has a shelf life of 6 months in its original, unopened containers and is available in ½ pint kits, pint kits, quart kits, gallon kits and 5 gallon kits.
For Editorial Use
Click below to download this release in the format of your choice.
News Release Images
Click an image to download a high resolution version in JPEG format.