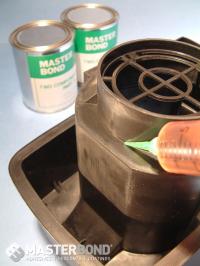 Master Bond Inc., Hackensack, N.J. is proud to announce the development of a new two component, room temperature curing epoxy adhesive called EP21HT. This system is easy to use and has a convenient, forgiving 1 to 1 mix ratio by weight or volume. EP21HT is 100% reactive and contains no solvents or volatiles. It has excellent physical strength properties and bonds well to both similar and dissimilar substrates. These include metals, glass, ceramics, wood, rubbers and many plastics. EP21HT has a service operating temperature range of -60°F to 400°F.
Once cured, EP21HT possesses superb electrical insulation properties. It has a volume resistivity of >1014 ohm-cm. It is also capable of withstanding exposure to thermal cycling and many chemicals including water, oils, fuels, acids, bases and salts. It has a Shore D hardness of >70 and coefficient of thermal expansion of 50 in/in x 10-6/°C. It has a tensile strength of >8,000 psi and a tensile modulus of >350,000 psi.
Master Bond EP21HT fully meets the requirements of MIL-A-81236 (OS) and MMM-A-187B. In addition, it conforms to Title 21, U.S. Code of Federal Regulations, FDA, Chapter 1, Section 175.105 and 175.300 for food compatibility.
EP21HT is available in pint, quart, gallon and 5 gallon container kits. For ease of use, it is also available in convenient syringe and gun applicators.
For Editorial Use
Click below to download this release in the format of your choice.
News Release Images
Click an image to download a high resolution version in JPEG format.