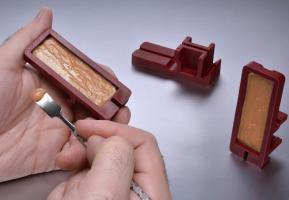 Featuring a thick paste consistency, Master Bond EP21NDFG bonds well to a variety of substrates including metals, composites, glass, ceramics and many types of rubbers and plastics. Unlike many high viscosity systems, EP21NDFG is truly non-drip and will not run or sag, even when applied to vertical surfaces. It produces high strength, durable bonds that resist thermal cycling as well as chemicals including water, oils, fuels, acids, bases and salts.
EP21NDFG is a two component, room temperature curing epoxy that has a non-critical one to one mix ratio by weight or volume. It also has the unusual characteristic of being able to adjust the properties of the cured system by altering the mix ratio. Adding more of Part A (e.g. 2:1 mix ratio) will give a more rigid cure, while adding more of Part B (e.g. 1:2 mix ratio) gives a more forgiving cure.
Once cured, EP21NDFG is an electrically insulative system. It is serviceable over the wide temperature range of -60°F to +250°F. The color of both Parts A and Part B is amber, although, a wide variety of additional color choices are also available. Passing FDA Section 175.105 tests, EP21NDFG is primarily used in food equipment applications where there is an indirect exposure to food and related products. This epoxy is available in standard packaging options ranging from ½ pint to 5 gallon container kits.
For Editorial Use
Click below to download this release in the format of your choice.
News Release Images
Click an image to download a high resolution version in JPEG format.