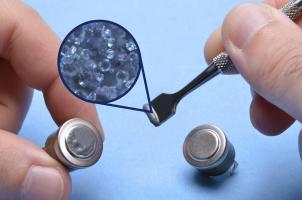 Engineered with a silicon carbide filler material, Master Bond EP21SC-1 delivers abrasion resistance for an array of chemical and mechanical processing applications. This epoxy has a smooth paste consistency and a non-critical one to one mix ratio by weight or volume. As a two part system, it cures readily at room temperature or more quickly at elevated temperatures.
With a Shore D hardness exceeding 95, EP21SC-1 is a rigid compound that adheres well to treated metals, ceramics and many plastics. Its physical strength profile includes a tensile strength greater than 6,000 psi and a compressive strength of over 15,000 psi at room temperature. Since the system is 100% reactive and does not contain any solvents or diluents, it has minimal shrinkage upon cure. Additionally, EP21SC-1 is capable of withstanding a range of chemicals such as water, oils, hydraulic fluids, acids and bases. The combination of the aforementioned properties enables this system to be widely employed for maintenance and repair of pumps, chutes, centrifuges, impellers and tanks.
EP21SC-1 is serviceable from -60°F to +250°F. It is a competent electrical insulator and it has a low thermal expansion coefficient. Both Parts A and B are dark gray in color and are available in standard packaging ranging from pint to 5 gallon container kits.
For Editorial Use
Click below to download this release in the format of your choice.
News Release Images
Click an image to download a high resolution version in JPEG format.