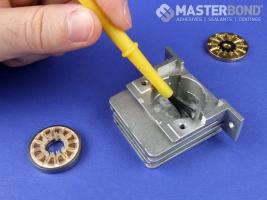 In many challenging bonding applications, elevated temperature cures are not possible. In order to overcome this deficiency, Master Bond has made available new EP21TCHT-1. Curable at room temperatures, EP21TCHT-1 has high thermal conductivity and superior electrical insulation properties. It has a service operating temperature range of 4K to 400°F. It also has a remarkably low thermal expansion coefficient. EP21TCHT-1 is NASA qualified for low outgassing applications. It is highly recommended for use in vacuum environments.
Master Bond EP21TCHT-1 is durable and possesses high physical strength properties. Adhesion to metals, ceramics, woods, vulcanized rubbers and most plastics is excellent. Bonds are resistant to water, fuels and most organic solvents. EP21TCHT-1 has a mix ratio of 100 to 60 by weight. It has a light paste viscosity and is easy to apply.
For Editorial Use
Click below to download this release in the format of your choice.
News Release Images
Click an image to download a high resolution version in JPEG format.