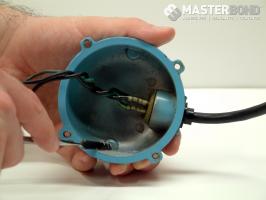 A new room temperature curing, aluminum filled two component epoxy adhesive called EP22 has been introduced by Master Bond Inc. Hackensack N.J. This system has an easy to use one to one mix ratio by weight or volume. It produces durable high strength and tough bonds with outstanding adhesion to metals, particularly steel and aluminum. Bonds are remarkably resistant to thermal cycling and chemicals including water, oil and most organic solvents.
Master Bond EP22 is readily and easily machinable. It has good void filling properties. It can be employed over the wide service operating temperature range of -60°F to more than 250°F. Shrinkage upon cure is low and dimensional stability is high.
EP22 is gray color. Cures of EP22 can be accelerated by use of heat. It is available for use in pint, quart, gallon and 5 gallon container kits.
For Editorial Use
Click below to download this release in the format of your choice.
News Release Images
Click an image to download a high resolution version in JPEG format.