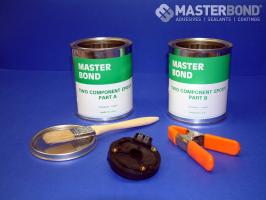 Master Bond Inc. of Hackensack, New Jersey has developed EP24, new fast curing, two component epoxy adhesive. This high performance system cures at room temperature or more rapidly at elevated temperatures. Additionally, it will cure at colder temperatures, down to 20°F. It is easy to use and has a convenient non critical mix ratio of 1 to 1 by weight or volume. The adhesive spreads evenly and smoothly. It is 100% reactive and contains no volatiles or solvents.
Master Bond EP24 is durable, tough and resistant to thermal cycling and chemicals. It has high bond strength to many similar and dissimilar substrates. It quickly develops a high bonding strength of more than 3,000 psi at room temperature. Adhesion to metals, glass, ceramics, wood, vulcanized rubbers and many plastics is excellent. It has a service operating temperature range of -300°F to +250°F.
EP24 is available in pint, quart, gallon and 5 gallon container units. It is also available in syringe and gun applicators.
For Editorial Use
Click below to download this release in the format of your choice.
News Release Images
Click an image to download a high resolution version in JPEG format.